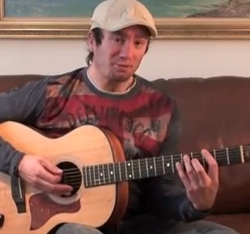 Today I want to talk about what I call the B.B. King Pause.
(PRWEB) May 23, 2014
"Today I want to talk about what I call the B.B. King Pause," says Darville, "what this is that after playing a phrase he will play the root note up high on the neck and pause, which I think he does to give him time to think of what his next move will be." Jacques demonstrates this concept by performing some different licks and ending them with the pause. He says that you can use this in your own playing with other styles of licks and riffs to give your self time to think of your next move. Jacques says that by doing this you are not necessarily imitating B.B. King, but rather just taking a page from his book and making it into your own. "This also creates what is called tension and release," says Darville, "this concept is used a lot in the blues and gives the listener time to digest what they just heard. Guitar TAB's are available for this blues guitar lesson at BluesGuitar.com."
B.B. King is an American Blues guitarist, singer and songwriter from Berclair Mississippi. Over the years he has developed one of the most recognizable styles in the world with his signature bending style. Over the course of his career he has released 45 studio albums and has received numerous awards including 16 Grammy Awards as well as being inducted into the Blues Hall of Fame and the Rock and Roll Hall of Fame. King was ranked number 6 on Rolling Stones list of Top 100 Guitarists of all time.
Jacques Darville
Jacques Darville is Danish born American who specializes in both acoustic and electric blues. Jacques has taught guitar and music for over 16 years. He is a graduate of Oakland University in Detroit Michigan where he earned his B.A. in music/performing arts. Jacques currently resides in Copenhagen Denmark where he teaches guitar to students of all ages, and actively plays with his band, Darville Duo. In addition to having a great deal of recording experience, Jacques has also toured in the USA, Denmark, Holland, Austria and the Philippines, both as a solo artist and with different bands.
About BluesGuitar.com
BluesGuitar.com is the leader in modern blues guitar instruction. It's packed with resources including articles,video lessons, and the best videos in the business for the beginner to the advanced guitar student taught by the best instructors out there.