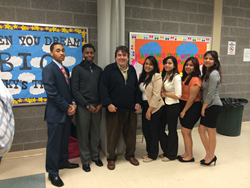 Radnor, PA (PRWEB) May 22, 2014
Philly car guy and charitable minded Gary Barbera has always cared for others at GaryBarberaCares.org and he keeps on caring about his community. Gary Barbera set up this charity program to benefit youth programs in the greater Delaware Valley including metro Philadelphia, Southeastern Pennsylvania and Southern New Jersey. Gary Barbera's goal is to donate time and money through various charities and programs to enhance the lives of the less fortunate.
Philly Car guy and philanthropist is also active with the Camden Riversharks Toy Drive, Archbishop Ryan Alumni Association, Northern Home for Children, Northeast Family YMCA, NJ Pediatric Patients Charitable Trust, Jon Dorenbas Magic Show benefiting Eagles Youth Partnership and the Todd Herreman's Foundation "Hoops for Help" and many, many more.
After his recent contribution, a flood of emails and letters were received, thanking him for support. "Thank you for your kindness!" wrote Bernadette Shanahan, executive director of The Boys and Girls Club of Camden County.
A particular young man, Trevon Ellis, wrote a heart warming letter to Gary about his experiences at Camden Catholic High School and his plans to attend Morgan State University in the fall of 2014. "I hope to pursue my Master's Degree and begin my career in the information technology field," explains Trevon. "The financial help you provided for me will be of great value in helping me with my educational expenses…allow me to concentrate on my studies."
Bernadette Shanahan, the executive director of The Boys and Girls Club of Camden County will be attending the Legislative Luncheon at the Statehouse on Thursday May 22nd with Abigail Jimenez the 2014 Youth of the Year for Camden County winner, who plans on attending Rutgers University in the fall thanks to the generous donations by Mr. Barbera.
Gary Barbera plans to attend the Youth of the Year recognition dinner on June 3rd, 2014 at Met Life Stadium to congratulate and continue his support of Abigail Jimenez, where she will receive her award and give her acceptance presentation.