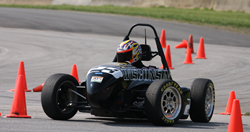 Oregon State University takes top honors with a total score of 876.6.
WARRENDALE, Pa. (PRWEB) May 21, 2014
SAE International announces final results from the Formula SAE® competition, which was held at the Michigan International Speedway in Brooklyn, Mich., May 14-17.
Oregon State University takes top honors with a total score of 876.6.
Technical University of Munich finished second; Universitat Stuttgart finished third.
FH-Joanneum Graz, University of Akron, Universite Laval, Auburn University, University of Michigan (Ann Arbor), University of Florida, and Centro Universitario Da FEI rounded out the top 10.
For a complete list of results, visit http://www.sae.org/images/cds/selfservice/400502309_FSAE_MI_2014_result.pdf.
Over the course of four days, the Formula SAE teams' vehicles were judged in a series of static and dynamic events including: technical inspection, cost, presentation, and engineering design, solo performance trials, and high performance track endurance. The events were scored to determine how well the car performs. In each event, the manufacturing firm had specified minimum acceptable performance levels that are reflected in the scoring equations.
More than 100 teams from countries around the world, including Austria, Brazil, Canada, Germany, Mexico, Russia, Singapore, South Korea, United Arab Emirates, Venezuela and the United States, competed.
For more information about Formula SAE, visit http://students.sae.org/cds/formulaseries/.
SAE International is a global association committed to being the ultimate knowledge source for the engineering profession. By uniting over 145,000 engineers and technical experts, we drive knowledge and expertise across a broad spectrum of industries. We act on two priorities: encouraging a lifetime of learning for mobility engineering professionals and setting the standards for industry engineering. We strive for a better world through the work of our philanthropic SAE Foundation, including programs like A World in Motion® and the Collegiate Design Series™.