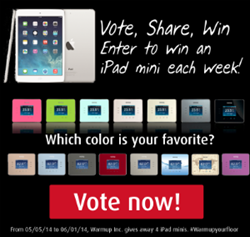 Danbury, CT (PRWEB) May 23, 2014
Three years ago, Warmup released its exclusive 3iE™, the world's first touch-screen, energy monitoring thermostat for radiant floor heating. Now, the company is asking for help selecting the 3iE™'s newest line-up by having customers vote at http://www.warmup.com or on social media for a chance to win an iPad mini.
Voters can choose their favorite faceplate colors and rim colors. Faceplate colors range from the old line-up, including piano black, cloud white, classic cream, leaf green, deep pink, madison blue, silver grey and warmberry, to new colors that were created by design students and professional designers. The new colors include light blue, burgundy, grey, kraft, magenta, light grey, a water blue pattern and an old map pattern. Rim choices include chrome, copper and brushed nickel.
"We want to give our customers what they want," said Regis Verliefde, CEO of Warmup. "What essentially started with our exclusive clients and celebrity designers getting their very own designs and color schemes is now being made available to all Warmup customers. For instance, we matched the KitchenAid red Pantone for a kitchen in New York. It then snow-balled from there, and that very red is one of the colors in the contest."
With one iPad mini already awarded to a lucky Twitter winner, Warmup will give away three more, one per week, until Sunday, June 1 to those that share their votes either on Facebook, Twitter or Google+ using the hashtag #WarmupYourFloor.
"We had fun putting this together, and the eight finalists for the contest were selected by HGTV celebs and top designers, explained Verliefde. "Pantone's color of the year is there, and we are introducing appealing print graphics as well. We look forward to the interior designer community to participate in voting via social media and to reward a lucky few with weekly iPad prizes. We'll announce the winners weekly and the winning colors in June. Then, those will be the ones boasting the Warmup brand in bathrooms and kitchens from that point on."
In addition to coming in a variety of stylish colors, the 3iE™ is user-friendly and features an advanced energy monitoring and a built-in ground fault circuit interrupter (GFCI). It displays actual graphs of recorded energy consumption against costs gathered while operating radiant floor heating systems. The 3iE™ then makes recommendations for the most efficient settings to operate the system.
"Along with looking amazing, the 3iE™ saves users more money than traditional digital thermostats," continued Verliefde. "It's like no other product in the market, and you will actually be proud to display it in your home."
To vote, visit http://www.warmup.com today for all of the details.
About Warmup:
Warmup Inc. is the North American arm of Warmup Plc., England's leading manufacturer of electric floor heating systems for all types of floors, including foyers, baths, kitchens, living rooms and specialty areas such as sunrooms and yoga studios. Warmup's unique heating element has been tested and approved by leading certified laboratories, meeting the most up-to-date stringent standards, confirming the company's commitment to quality and safety. Warmup Inc. is a member of the National Kitchen & Bath Association (NKBA), the Ceramic Tile Distributors Association (CTDA) the National Tile Contractor's Association (NTCA) and Radiant Panel Association (RPA). For more information, visit http://www.warmup.com or call 1-888-927-6333.