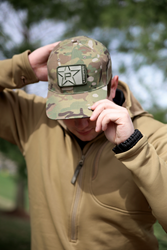 With 18 different colors or patterns to choose from, there is a PROPPER 6-Panel Cap for everyone.
St. Louis, MO (PRWEB) June 26, 2014
PROPPER INTERNATIONAL™ has released the 6-Panel Cap just in time for summer. The 6-Panel Cap is built with the same fabrics as PROPPER uniforms. "This ensures an exceptional color match and the same high-quality and durability our uniforms are known for," said Joe Ruggeri, Vice President of Merchandising.
With 18 different colors or patterns to choose from, there is something for everyone. Learn more about the 6-Panel Cap at propper.com.
PROPPER has manufactured high quality apparel for the military and public safety markets since 1967. "Caps that match our wide variety of uniforms are a great fit for us. They are selling fast and the feedback we have received from customers has been overwhelmingly positive," said Amy Coyne, President and CEO of PROPPER. "The combination of a wide range of colors, adjustable fit, and value make the 6-Panel Cap a great addition to our product offering." Watch this video for information on the full lineup of PROPPER head wear.
The 6-Panel Cap is offered in two styles including with or without a 3" x 2" loop field on the front of the cap for attaching identification or morale patches. Popular selections include MultiCam®, Army Universal, Woodland and A-TACs™ patterns and a variety of solid colors.
Stay updated on new products and contests at the PROPPER Facebook page.
ABOUT PROPPER
PROPPER INTERNATIONAL™ is one of the largest suppliers to the United States armed forces, having manufactured over 120 million garments for the U.S. Department of Defense. PROPPER also manufactures apparel for law enforcement, first responder and tactical markets. PROPPER commercial products are distributed through more than 3,000 military, public safety, outdoor and specialty retail stores and websites across the country. For more information, visit propper.com.
###