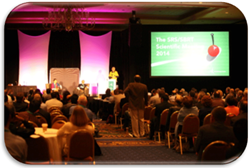 This was a great multi-disciplinary meeting with ample opportunity to discuss new developments.
Campbell, California (PRWEB) May 22, 2014
The Radiosurgery Society® (RSS), a non-profit organization of medical professionals dedicated to advancing the science and clinical practice of stereotactic radiosurgery (SRS) and stereotactic body radiotherapy (SBRT) held its Scientific Meeting on May 7-10, 2014, in Minneapolis, MN. Over 400 medical professionals from around the world attended the conference which featured over 100 presentations discussing the growing applications of SRS/SBRT in the treatment of tumors of the brain, spine, lung, breast, prostate, liver, pancreas and head and neck. "As a surgeon involved with SBRT, the format of the RSS annual meeting provided an opportunity to have multi-specialty discussions on how best to use this treatment for the benefit of patients," commented Dr. Douglas J. Minnich, Department of Cardiovascular and Thoracic Surgery, University of Alabama, Birmingham, AL.
A highlight of the week was the "The Showdown: World Cup" which featured leading scientists and clinicians debating various topics of SRS/SBRT including radiobiology principles, whole breast irradiation vs. partial breast irradiation for early-stage breast cancer, and the role of SBRT in the management of oligometastasis. The debates were lively and encouraged discussions amongst the presenters and audience members. "This was a great multi-disciplinary meeting with ample opportunity to discuss new developments. The Showdown discussions provided excellent insight in arguments both pro and con," said Professor Berend Slotman, M.D., Department of Radiation Oncology, VU University Medical Center, Amsterdam, The Netherlands.
In addition to the clinical presentations, the RSS co-hosted two hands-on training workshops with the University of Pittsburgh Cancer Institute, Pittsburgh, PA and Montefiore Medical Center, Bronx, NY. The workshops, dedicated to SRS/SBRT treatment of head & neck and gastrointestinal tumors, provided attendees an opportunity to learn SRS/SBRT treatment management practices and techniques from experts in the field. "The value of the head & neck and gastrointestinal SBRT symposium held at the RSS Scientific Meeting was to provide hands-on management for challenging cases in an intimate environment with subject experts across a variety of radiosurgical platforms. Ultimately, the goal of symposia like these is to disseminate state-of-the-art technique to benefit the patients we care for in our practices," stated Dr. Dwight Heron, M.D., Vice Chairman of Radiation Oncology, University of Pittsburgh Cancer Institute.
"Collaboration between neurosurgeons and radiation oncologists in SRS/SBRT planning for head and neck and skull base tumors is critically important due to the complex anatomy in these regions. Training sessions at the RSS Scientific Meeting where surgeons, radiation oncologists and physicists work together planning cases on actual workstations under the supervision of knowledgeable proctors is an excellent way to initiate, reinforce and facilitate multi-disciplinary partnerships, critical when dealing with complex cases," commented Dr. Arlan Mintz, M.D., Director, Neurosurgical Oncology, Capital Health, NJ and one of the leading proctors at the head and neck workshop.
This year's physics program included sessions focused on quality assurance and safety issues specific for SRS/SBRT, immobilization and motion management, radiobiology and outcomes analysis. "The RSS meeting was a very instructive international symposia with distinguished medical physicists from North America and Europe presenting novel stereotactic treatment delivery techniques, clinical experiences with newly emerging technology, and a wide range of treatment planning, dosimetric, and imaging strategies to improve SRS and SABR. There were grand opportunities to casually interact with colleagues, and many interesting workshops, posters, and clinical sessions that made this RSS meeting a success," stated Dr. Stanley Benedict, Ph.D., Professor of Radiation Oncology, UC Davis Comprehensive Cancer Center, Sacramento, CA.
This year's meeting was endorsed by the American Association of Physicists in Medicine (AAPM), the American Society of Clinical Oncology® (ASCO), and the International Society of Radiosurgery (ISRS). The RSS partnered with the Minnesota Medical Associated to provide AMA PRA Category 1 Credits. The Radiosurgery Society draws support from nearly 30 companies and community leaders, including Accuray Incorporated, Brainlab AG, Elekta, and Varian Medical Systems.
About The Radiosurgery Society®
The Radiosurgery Society (RSS) – a non-profit, independent, multi-disciplinary organization of surgeons, radiation oncologists, physicists, and allied professionals, who are dedicated to advancing the science and clinical practice of radiosurgery. Originally formed in 2002 and becoming (501c6) in 2008, the Radiosurgery Society today represents approximately 600 members who perform stereotactic body radiotherapy and radiosurgery in hospitals and freestanding centers throughout the world