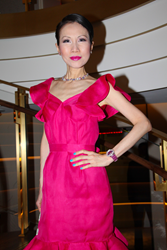 As YUE celebrates the launch of its Spring 2014 issue, we are honored to be part of an exclusive preview of Van Cleef's poetic creations.
New York, NY (PRWEB) May 22, 2014
Chiu-Ti Jansen, Publisher of YUE Magazine and founder of CHINA HAPPENINGS, is proud to announce the Spring 2014 masquerade ball issue with Chinese supermodel Bonnie Chen gracing the cover.
YUE Magazine celebrated the launch of the spring issue on Tuesday, May 20th at the Van Cleef & Arpels boutique at 744 Fifth Avenue in New York City. The festivity brought together Chinese and New York elite for an evening of perusing Van Cleef & Arpels' latest Poetic Astronomy timepieces.
Ms. Jansen said, "Van Cleef's Poetic Astronomy timepieces express a fundamental human aspiration for transcending the limitation of time and finding moments of starry eternity among galaxies and constellations. As YUE celebrates the launch of its Spring 2014 issue, we are honored to be part of an exclusive preview of these poetic creations."
Notable guests included: Geoffrey Bradfield, Lucia Hwong Gordon, Greg Kan, Jerica Lam, Michele Gerber Klein, Chien Chung Pei and Luke Yang.
YUE Magazine is a joint venture between Observer Media (publisher of The New York Observer), and CHINA HAPPENINGS, a multimedia platform focusing on the lifestyle industries in contemporary China.
YUE Magazine
YUE Magazine is the first bilingual lifestyle magazine focusing on the unique luxury experiences that New York can offer to the affluent Chinese consumers. YUE connects New York businesses with Chinese luxury travelers and consumers through its rich original contents. Covering everything from fashion, shopping, culture, fine dining, real estate and education, YUE aims to give China's sophisticated reader a multi-faceted view and better understanding of New York City and surroundings.
CHINA HAPPENINGS
CHINA HAPPENINGS is a multimedia platform founded by Chiu-Ti Jansen that focuses on the lifestyle and cultural industries in contemporary China. Ms. Jansen is a TV presenter, a lifestyle magazine publisher and a writer based in New York City. She hosts TV and video presentations on fashion and style for Phoenix TV, Phoenix Fashion and Sina Fashion, and writes a blog titled CHINESE ELEMENTS for international auction house Sotheby's (http://www.sothebys.com) and a fashion and style column titled NEW YORK IN STYLE for the Financial Times' Chinese edition (http://www.ftchinese.com). Prior to founding CHINA HAPPENINGS, Ms. Jansen was a New York-based corporate partner of an international law firm. A native speaker and write of Mandarin Chinese, Ms. Jansen holds advanced degrees from Yale University and Columbia Law School and serves on the Contemporary Art Advisory Committee of China Institute in America and the Board of the Couture Council of Museum at the Fashion Institute of Technology (FIT).
Observer Media
Observer Media is a collection of premium lifestyle and business titles reaching audiences in the areas of innovation, commerce and luxury. Recognized for original content and premier experiences, Observer Media's digital, print, social media and event platforms reach 5 million of the nation's most affluent and educated individuals. Notable properties include, the New York Observer, Betabeat, Gallerist, Commercial Observer and SCENE.
Van Cleef & Arpels
Van Cleef & Arpels was born in Paris' Place Vendôme in 1906, following Alfred Van Cleef's marriage to Estelle Arpels in 1895. Always striving for excellence, the Maison has become a worldwide reference through its unique designs, its choice of exceptional stones and its virtuoso craftsmanship, offering jewels and timepieces that tell stories and bring enchantment to life. Over the years, the Maison has remained faithful to this highly distinctive style characterized by creativity, refinement and poetry. Whether inspired by nature, couture or the imagination, its collections evoke a timeless world of harmony and beauty. Visit http://www.VanCleefArpels.com for additional information.
CONTACTS: YUE Magazine
Zarah Burstein, zburstein(at)observer(dot)com