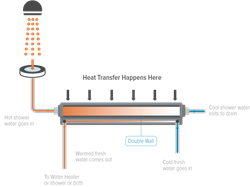 Energy efficiency is the world's most important fuel, according to the International Energy Agency.
Montreal, Quebec (PRWEB) May 21, 2014
Consumers know hot water costs money. But they may not be aware that it's the second biggest energy expenditure after heating and cooling. Now there's an answer. Ecodrain™, a simple, elegant way to save on hot water for homeowners tired of wasting energy they paid hard-earned money for.
Ecodrain is the first practical heat recovery solution for home shower use
The principles of heat recovery are well known but were only viable in large scale commercial applications… until now. With Ecodrain's next-generation design, anyone can save energy when remodelling a bathroom or building a new home.
A low cost way to fight the high cost of energy
Ecodrain™ is very affordable initially, with the cost of a unit just a fraction of that of a modest bathroom remodel (consumers could easily pay more for a showerhead!). Best of all, Ecodrain™ pays for itself quickly, helping you save energy while you shower. In households with normal hot water use and average energy prices, that usually means a payback period of three to five years.
Keeps on saving beyond the payback date
Because Ecodrain™ is a robust, well-engineered unit fabricated with quality copper components, the savings on hot water continue for 10, 20, or even 30 years. Extensive testing by the manufacturer indicates the domestic heat recovery unit will likely outlast the brand new bathroom it was installed in.
No reduction in water flow
Unlike devices such as low-flow showerheads, Ecodrain™ does not constrain water flow to save energy while you shower, rather it recovers a substantial amount of the heat that would otherwise have gone down the drain.
A hot shower never felt better
A lot of people love a long, hot shower. Although the manufacturer believes everyone should use water responsibly, with Ecodrain™ boosting energy efficiency, every shower can be 33% longer with no increase in carbon footprint or the amount spent on electricity.
One of the simplest, most cost effective home improvements on the market
Any plumber or handy DIYer can install Ecodrain™. And unlike first generation or commercial heat exchangers that need several feet of vertical height for installation, Ecodrain™ installs flat underneath the bathroom subfloor. Since Ecodrain™ has no moving parts to fail and consumes no energy itself, it goes on saving energy while you shower for years to come, out of sight and trouble free.
What goes on inside Ecodrain™?
Ecodrain™ has no moving parts and requires no electricity to operate. Inside, a specifically engineered piping configuration transfers heat energy from the hot shower water to the incoming fresh water supply. And, a patent-pending device optimizes turbulence in the fresh water supply for maximum energy recovery.
An energy saving addition to every new bathroom
Ecodrain™ was designed for homeowners who want to save energy when they remodel their bathroom or build a home, allowing them to reduce their energy use and consequently their carbon footprint and save money every time they shower. Ecodrain™ is available for immediate shipping.
Ecodrain was conceived when its founding engineer was taking a shower and realized a large percentage of the energy used to heat the water was flowing down the drain. He decided to come up with a practical solution for recovering energy when you shower. After years of research and development and overcoming numerous hurdles, the company began marketing the first heat exchange unit designed specifically with domestic shower use in mind.
About Ecodrain™
Ecodrain™ designs, manufactures and markets next generation heat exchangers for efficiently recapturing heat from drain water. Founded in 2007, Ecodrain has built hundreds of prototypes and conducted thousands of experiments to produce the world's most advanced drain water heat exchanger on the market.