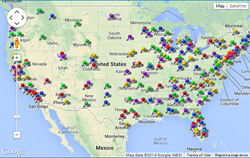 Atlanta, GA (PRWEB) May 22, 2014
A-1 Express, a recognized leader in same-day delivery, messenger and transportation services, announces major city listing for courier services. The announcement is made in order to market the courier's US coverage area, expand its client base and increase online sales. A-1 Express pursues to be the best choice in same-day courier solutions throughout the US.
A-1 Express has a listing of all the major US cities in which it offers courier services on its comprehensive website. At the bottom of each page, all of the cities are categorized within four US regions, including the east coast, west coast, central and mid west. There are also links for the northeast, southeast, and south central regions. The Dallas courier provides the listing for additional convenience and user-friendliness for all of its customers. The city listings also promote user-friendliness and easy access for site visitors and first-time courier customers.
With the city listings available, customers can locate their city and request an instant courier quote online. The A-1 Express quick quote tool only requires the origin and destination zip codes, number of pieces, total package weight, the ready time and date, vehicle type and e-mail address. The quick quote is an immediate pricing source and also confirms specific area coverage. There are select areas outside of the major US city listings in which A-1 Express does not have specific service coverage.
Customers can place an order for same-day delivery via online after receipt of the quick quote. If there are any metro areas outside the US cities that have any weekend service constraints, the courier will immediately inform the customer. For any special service requests, customers are recommended to contact A-1 Express via phone and a representative will address their same-day courier needs.
A-1 Express is a premier same-day courier offering transportation and distribution services. From small packages to palletized freight, A-1 Express delivers fast! As a leader in the courier industry, their goal is to perform optimal courier logistic solutions and superior customer service every time. The courier provides same-day delivery successfully for over 1,500 clients, including Fortune 500 companies nationwide.