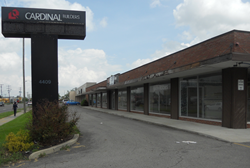 This means buyers have the opportunity to purchase a great Ohio property at the price of their choosing.
Columbus, Ohio (PRWEB) May 22, 2014
Buyers have an excellent opportunity to purchase a commercial property in Whitehall, Ohio, at auction prices. Gryphon Auction Group, working in conjunction with Borror Properties and Receiver Shawn Parker, will offer property for competitive bidding during an online auction ending Wednesday, June 11 at 10:30am. Live bids will also be accepted.
"Shawn recognizes the value of using an accelerated method of marketing – in other words, an auction – to sell receivership property," said Richard Kruse, president of Gryphon Auction Group. "What does this mean for buyers? It means they have the opportunity to purchase a great Ohio investment property at the price of their choosing. Today's market conditions and the auction format allow sellers and buyers to come to an agreement quickly with a competitively achieved fair market value. In times like these, an auction is the best way to establish what the real market value is."
The property, located at 4409 E. Main St., Whitehall, Ohio is a retail storefront building –– constructed in 1960. It contains 18,848± square feet of gross building area and features a showroom, office and warehouse space. The improvements are characterized by concrete block construction with brick façade and a flat roof with membrane roofing. The property owner reports that the roof has been replaced within the last few years. The property also has insulated windows in aluminum frames, a glass storefront, metal entry doors, gas forced air heat and central air conditioning, as well as ample parking. It is situated on roughly 0.777 acre on the southeast corner of East Main Street and Barnhard Road.
The June 11 event will take place online. The auction will begin at 10:30 a.m. EDT.A broker co-op will be offered. Contact auctioneer, Richard Kruse, to bid live.
Property details, photos and terms and conditions can be found at GryphonUSA.com. Gryphon Auction Group can be contacted at 614-885-0020 ext. 17 or by email at rfk(at)gryphonusa(dot)com.
About Gryphon
Gryphon USA, Ltd. is a multi-faceted asset management and liquidation firm focusing on the operations and dissolution of single assets through and including entire companies. Gryphon maintains a receivership and asset management group commercial auction practice art, antique and pottery auction group and real property management group. Traditional real estate transactions are managed through Borror Properties Real Estate.
Melissa M. Kruse oversees the day to day operations of the parent company, Gryphon USA, Ltd. while Gryphon Asset Management and Gryphon Auction Group operations are managed by Richard F. Kruse.