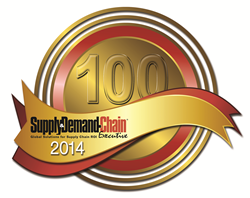 Each project we take on is a unique opportunity to help an organization recognize ways to achieve savings.
Mechanicsburg, PA (PRWEB) May 22, 2014
Puridiom, a leading Procure-to-Pay solutions provider, has once again been recognized as a Top 100 company contributing to the "100 Great Supply Chain Projects," by Supply & Demand Chain Executive Magazine. Inclusion in this year's "100" list recognizes Puridiom leadership as a solution and service provider in assisting the Supply Chain function and supply chain executives move toward supply chain excellence.
The 2014 Supply & Demand Chain Executive 100 are supply chain solution and service providers that are helping their customers and clients achieve supply chain excellence. They have produced measurable gains in ROI through cost-cutting and increased efficiency, whether in warehouse, transportation, procurement sourcing or any other category in the end-to-end supply chain.
"Our goal with this year's "100" is to put the spotlight on successful and innovative transformation projects that are delivering bottom-line value to small, medium and large enterprises across the different functions that comprise the supply chain," says Supply & Demand Chain Executive Editor Barry Hochfelder. "The projects featured can serve as a roadmap for supply chain executives looking for new opportunities to drive improvement in their own operations."
"Each project we take on is a unique opportunity to help an organization recognize ways to achieve savings," says Jesus Ramos, co-founder and CEO of Puridiom. "By providing the right tools and technology, best procurement practices, and support, an organization can achieve their specific goals, and more often than not, beyond expectations."
Puridiom will be featured along with other award recipients in the June 2014 issue of Supply & Demand Chain Executive, as well as online. To find out more about how Puridiom enables its clients with powerful savings and spend visibility tools, read more here.
About Puridiom
Puridiom, a recognized leader in the Supply Chain, offers innovative technology solutions, industry-specific strategies, and best practice expertise to achieve best-in-class results. For over 30 years, Puridiom has successfully transformed procurement and accounts payable operations and delivered real savings, control, compliance, and accountability to spend activity. Puridiom serves many global organizations within diverse industries, including energy, insurance, financial, entertainment, government, healthcare, and non-profit. Solutions and services include stand-alone modules, a comprehensive procure-to-pay suite, cloud/SaaS and on-premise deployment platforms, and business process outsourcing options. Discover real savings and learn more at the Puridiom website.
About Supply & Demand Chain Executive
Supply & Demand Chain Executive is the executive's user manual for successful supply and demand chain transformation, utilizing hard-hitting analysis, viewpoints and unbiased case studies to steer executives and supply management professionals through the complicated, yet critical, world of supply and demand chain enablement to gain competitive advantage. On the Web.