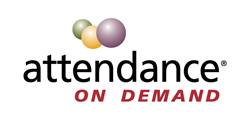 Understanding your vendor's transition plan and ongoing support model before the sale closes helps ensure your new system's ROI.
Livonia, Michigan (PRWEB) May 22, 2014
Attendance on Demand announces the release of a white paper that discusses the items to consider when working with a time and attendance vendor on system implementation. The promise of a new time and attendance system is exciting, especially in the sales stage. Increased productivity, efficiency and satisfaction are just a few of the things every organization hopes a new application will inspire. However, one of the most important factors determining that level of success is what happens after the sale. Transitioning from one system to another doesn't happen with a flip of the switch – your vendor must have a plan to ensure the process goes as smoothly as possible.
Transitioning to new software and hardware can be a challenge even when things go well. Unforeseen complications and new issues can arise, calling the success of the transition into question and potentially causing some stakeholders to debate the value of a new system altogether.
What should you look for in a vendor's post-sale service plan to ensure a smooth transition for your organization? Here are nine steps your vendor's transition plan should include:

Client introductions
Customer and site surveys
Pay configuration and validation
Data conversion and uploading
Testing
Parallel systems testing
Administrative and user training
Punch payroll processing and verification
Ongoing maintenance and support
"Understanding your vendor's transition plan and ongoing support model before the sale closes helps ensure your new system's ROI," said Beth Baerman, Director of Corporate Communication at Attendance on Demand.
To learn more, download the whitepaper, After the Sale: What to Expect from Your Time and Attendance Vendor.
About Attendance on Demand
Attendance on Demand employee time and attendance service supports the labor management needs of thousands of companies and over a half million employees across North America. Launched in 2006, Attendance on Demand is a rapidly deployed, cloud-based solution that minimizes a company's risk and technology investment while providing advanced features for securely managing labor data — calculating pay rules, scheduling employees, budgeting labor, and automating record keeping for labor law compliance. With standard uptime over the industry average of 99.995% and above average customer retention rates Attendance on Demand removes the worry of maintaining expensive infrastructure. An extensive North American distribution network helps organizations use Attendance on Demand to reduce labor expenses and improve decision-making.
http://www.attendanceondemand.com
1-800-465-9980