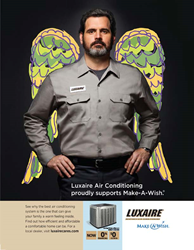 It's not surprising that a growing number of Luxaire units qualify for the Energy Star highest rating of Most Efficient.
New York, NY (PRWEB) May 22, 2014
Shortly after Johnson Controls, Inc. acquired the Luxaire brand in 2005, they embarked on a journey to create a line of heating and cooling products that are unrivaled in design, durability, and performance.
Their approach is centered on a multi-tiered approach to quality. This program employed a rigorous product development process successfully implemented in other areas of Johnson Controls businesses, set high standards for supplier quality, and led to numerous improvements in the manufacturing process, as well as significant investments in testing and training initiatives.
Today, Luxaire cooling and heating products feature impressive technology and energy efficient innovations. They often receive industry accolades, like the Consumers Digest Best Buy award and Energy Star's "Most Efficient."
"The Luxaire Acclimate series is an excellent example," says Michelle Zellman, Senior Vice President of ABCO HVACR Supply + Solutions, a distributor of Luxaire products. "The AL8B model uses a new two-stage compressor technology with a maximum cooling stage for the hottest days on top and a first stage to cool your home during non-peak hours. It's not surprising that a growing number of Luxaire units qualify for the Energy Star highest rating of Most Efficient."
Another innovation is Luxaire's microchannel coil technology that uses significantly less refrigerant, takes up less space, and weighs less. The smaller footprint makes installation easier, so labor costs may come down, too.
When it comes to sound level, Luxaire is among the best. Their Acclimate series features Silent Drive technology that is up to four times quieter than other systems. The advanced fan design further reduces noise with smoother airflow.
A Leap Ahead in Performance and Practicality
Johnson Controls has reengineered many of its Luxaire equipment designs with durability in mind. Luxaire products are built to last; many feature heavy duty steel cabinets with an enamel powder-coated finish that provide unmatched protection from the harshest elements. They use specially engineered compressors that can withstand high operating temperatures and pressures. Permanently lubricated, maintenance-free, long-life fan motors, as well as Luxaire's unique water-shed cabinet design, provide additional defense against corrosive weather.
Advances such as the ones now featured by Luxaire don't happen by accident. In this case, they're the result of a comprehensive development put into place.
The objective was, quite simply, to make Luxaire's quality and performance leaders in the industry.
Johnson Controls has invested in new advanced testing facilities that provide accelerated life testing capabilities under a variety of extreme environmental conditions.
"This means Luxaire equipment has been subjected to extreme heat, cold, rain, sleet, and snow." said Zellmann.
Johnson Controls' focus on quality has clearly paid off for Luxaire products and homeowners looking for advanced cooling and heating solutions that are efficient and durable.
There's one other special feature that comes with Luxaire: a portion of every sale goes to the Make-A-Wish foundation. http://www.luxairecares.com
Luxaire products are distributed locally by ABCO HVACR Supply + Solutions which was founded in 1949. Under the leadership of CEO Michael Senter, ABCO has grown into one of the nation's largest independent HVACR resource that provides extensive inventory, delivery, and engineering support with 18 branch locations throughout the Northeast.
For more information on ABCO HVACR Supply + Solutions, please contact Chief Marketing Officer Bob Cesiro at 718-937-9005 ext. 1280, or at bcesiro(at)abco(dot)co For more information on Luxaire, visit http://www.luxaire.com.