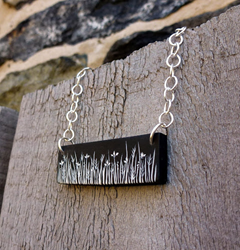 I've always gotten a kick out of making things.
Hagerstown, MD (PRWEB) June 06, 2014
Yummy & Company, based in Baltimore, Maryland has mastered the art of combining classic styles with modern appeal to create unique and intriguing one-of-a-kind jewelry. Now available at The Fine Arts Company, Yummy & Company uses antique brass and hand painted accents to create simple and stylish pieces reminiscent of the adornments of days past.
Designer Jennifer Wilfong started her art career in painting, creating dramatic scenes on large canvases. She has since moved into miniature, with Yummy & Company creating small art works that are incorporated into vintage-inspired jewelry pieces. Delicate antique brass chains and ear wires support medallions hand painted with nature-inspired designs including leaves and dandelion tufts. Each item is truly a one-of-a-kind piece of miniature artwork, hand crafted with love and utmost care.
Speaking about her work, Jennifer Wilfong says, "I've always gotten a kick out of making things, and being a jewelry designer allows me to come up with new designs and ideas on a constant basis! I truly love being able to create little pieces of art that anyone can afford and enjoy."
Wilfong has challenged herself with her current line, restricting her colors to a very limited palette. The result is a sharp and clean silhouetted appearance that is as classic in its form as it is refreshing in its simplicity. Some pieces include antiqued brass components, however the clarity and strength of Wilfong's miniature paintings require no adornment to make a statement.
The Fine Arts Company is proud to offer bracelets, earrings, necklaces and even lockets from Yummy & Company. The rich colors and natural forms of each piece give this line of handmade jewelry a distinct look with universal appeal. Visit http://www.thefineartscompany.com to shop the Yummy & Company collection as well as peruse items handmade by other talented American artists. Sign up for The Fine Arts Company newsletter to be the first to know about upcoming news and events.
About The Fine Arts Company
As vibrant and diverse as its inventory is, the Fine Arts Company has an unbending commitment to three specific colors: red, white, and blue. An exclusive showcase for items made in the USA, the company hand selects each of its featured pieces from American-based designers and artists, helping local artisans spread their work beyond the borders of their own communities. The ever-growing stock of unique gifts and collectibles ranges from ceramics, pottery, and wall art to jewelry and home accents made of glass.
Visit http://www.thefineartscompany.com or follow on Facebook to learn about upcoming events and developments, and see the newest and best in handmade American arts.