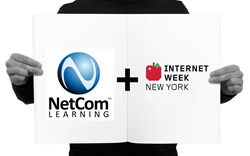 New York, NY (PRWEB) May 22, 2014
Internet Week New York Festival (IWNY) is here and there are events to interest anyone with an eye on the tech industry. The festival runs from May 19 through May 26. There are ongoing sessions at the IWNY headquarters at the Metropolitan Pavilion and tech happenings such as the Webutante Ball, the We Connect Internet Mixer, the New York Angels Demo Event, Appy Awards Cocktail Party and eCommerce on a Rooftop. Attendees have hundreds of events to choose from in addition from serious to the mostly fun. NetCom Learning, the leader in innovative technology training, in honor of IWNY is offering deep discounts on training including CompTIA courses, Microsoft Office coursework and PMP Certification training. Now is the time to get serious about a career in the IT industry with discounted technology training up to 50% off available online or at NetCom Learning's headquarters located in New York City, the city that is projected to be the next Silicon Valley.
IWNY takes place annually in New York city and attracts more than 45,000 business and technology professionals from across the world. In 2014 there are more than 250 events scheduled for attendees. This year's events are centered on how technology is impacting business areas such as entertainment, marketing and advertising, media, retail, commerce, design, food industry, and the health industry. Interested individuals can attend the entire four day event or purchase daily tickets. The festival grew out of a desire to celebrate the growth of the technology industry and the digital community with a recognition of New York's growing place in the industry. The city's former mayor Michael Bloomberg was instrumental in making the first event happen in 2008 and the current mayor Bill Deblasio is continuing the effort to support IWNY while pushing to create new IT jobs and IT startups within the city.
NetCom Learning which is dedicated helping individuals achieve their career goals in technology and to help grow companies through efficient use of current technology is a New York City based technology company. Founded by technology entrepreneurs in 1998, the company has grown to a multimillion dollar business and has made Inc. Magazine's list of fastest growing private companies three times. The company steadfastly believes in the growth of IT startups and technology innovations in the city of New York and has currently slashed training course prices up to fifty percent off on selected courses in honor of Internet Week New York.
To check out NetCom Learning's current discounts and promotions go to http://www.netcomlearning.com/education/specials.phtml
Benefits of taking technical training with NetCom Learning
NetCom Learning is the most trusted name in both business and IT training and offers top notch instructors with an average of 16 years of experience and vendor approved coursework offering certification preparation for a variety of vendor certifications. NetCom Learning instructors routinely achieve high ratings from their students and possess an average of 20.5 years of experience and a cumulative average of more than 10,500 years' experience in the field of their expertise. Instructors carry an average instructor evaluation of 8.6 out of 9, one of the highest instructor evaluations in the industry. The high quality of training has resulted in over 2,150 testimonials and a 96% customer satisfaction rate with those customers indicating they would recommend NetCom Learning to others.
About NetCom Learning
NetCom Learning is an innovative leader in IT, business and executive training to companies, individuals, and government agencies. Since its inception in 1998, NetCom Learning has trained over 71 percent of the Fortune 100, serviced over 50,000 business customers, and advanced the skills of more than 81,000 professionals through hands-on, expert-led training, with the organization maintaining an average instructor evaluation score of 8.6 out of 9. NetCom Learning was recognized by Microsoft Corporation as its Worldwide Training Partner of the Year and named thrice to Inc. Magazine's list of fastest growing private companies in
America. The organization was also recently named to the 2012 Top 20 IT Training Companies by TrainingIndustry.com and was named "Company of the Year" by the American Business Awards.
Like us on Facebook! https://www.facebook.com/netcomlearning
Follow us on LinkedIn: http://www.linkedin.com/company/netcom-learning
The purpose of NetCom Learning is to promote the values of lifelong learning.