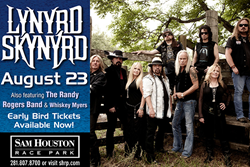 Houston, TX (PRWEB) May 21, 2014
Early Bird Tickets on sale now for the Lynyrd Skynyrd concert at Sam Houston Race Park (http://www.shrp.com), on Saturday, August 23rd.
Legendary Rock and Roll Hall of Fame inductees Lynyrd Skynyrd return to Houston with a fiery slice of Southern style guitar rock heaven. For the passionate, longtime fans of the band, this is Skynyrd at the top of their game, complete with instantly memorable songs, more hooks than a tackle box, and a blistering three-guitar attack at full power. Led by core members Gary Rossington (guitar), Johnny Van Zant (vocals), and Rickey Medlock (guitar), Skynyrd will put on an exciting show in the infield at Sam Houston Race Park.
Also set to perform on August 23rd are The Randy Rogers Band, and Texas Country group Whiskey Myers making this concert a must see for all Houston music fans.
Early bird general admission tickets are available now through June 1st for $30, with a limited number of premium and reserved seating available. Advance tickets will be $40 for general admission, and will be available June 2nd through August 22nd. Tickets are available online at http://www.shrp.com. All dates, acts, and ticket prices subject to change without notice. Additional service fees apply.
About Sam Houston Race Park:
Sam Houston Race Park is Houston's premier racing and entertainment facility, located just 15 minutes from downtown Houston, and offers a variety of attractions including a number of luxury suites overlooking the race track, The Pavilion Centre, and award-winning dining options at the Winner's Circle Restaurant and the Jockey Club. For more information on upcoming shows, events and tickets, please visit http://www.shrp.com.