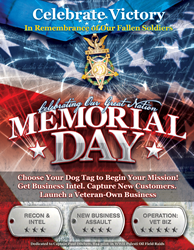 Generate More Prosperity For Your Business and Help a Veteran Launch a Business of Their Own
Safety Harbor, FL (PRWEB) May 23, 2014
The P3 Agency's decision to create 3 Memorial Day promotions to support Veteran-Owned business was inspired in honor of the CEO's Grandfather, Captain Paul Ditchett, WWII B24 pilot, prisoner of war and entrepreneur. His unceasing belief in our rights to freedom to live and prosper in our Great Nation compelled the Brand Development, Marketing & PR, Agency to create 3 promotions designed to support Veteran Business Owners and Emerging Veteran Entrepreneurs.
P3 is a 24-year-old firm specializing in Branding & Marketing, Public Relations, Creative Design and Web Development. The firm is award-winning and built on value-based results, referrals, and relationships. The members of the firm are passionate about transforming the ordinary into the extraordinary and has decided Memorial Day was the perfect time to celebrate our Veterans and offer their proven success-driven promotions to help launch a New Veteran-Owned Business and increase the success of other American-based Businesses.
The 3 targeted business promotions are:
1.Recon & Intel - This report will provide a business with intelligence regarding their competition and how they rank in the search engines. They can learn important drivers to help them set goals, navigate to success, and outsmart their competition.
Your customized dossier will identify flaws in your website defenses and offenses. Flaws that will lower your performance with the search engines. You can even supply P3 with a couple of your best competitors for them to send their drone spies to build a dossier on them as well. This is the key to out-flanking your competition!
2. New Business Assault - Sweet victory is eminent with P3's New Business Assault. P3 special forces will capture and deliver New Business Ops right to your Home Base. All you have to do is take care of your new customers!
3. Operation: Vet Biz - This mission is to come to the aid of All Veterans! Whether they are in transition from Active Duty to Civilian Life, or they've been out of the service awhile, P3 would like to send in our Special Forces Brand Development & Marketing Team to help them launch the new business they've been dreaming of!
Operation: Vet Biz is a Facebook Contest running now until June 30, 2014. The contest will give the winning veteran everything they need to take over the Market Place and bring prosperity and freedom to those they impact.
The package will include:
•A New Logo Design
•Set of 1000 Full-Color Business Cards
•5-Page Responsive Website
•1 Year Secure Website Hosting
•Google Starter Traffic Pack
If you know of an aspiring Veteran who wants to launch a business, please direct them to our contest!