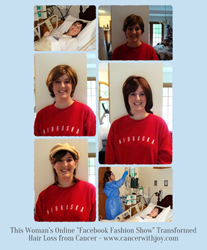 Topeka, KS (PRWEB) May 22, 2014
Joy Huber was just 33 when she was diagnosed with cancer - stage 4. This unexpected news was devastating, but it got even worse as Joy realized her chemotherapy treatments would cause total hair loss.
"I was warned one of my chemo. medicines would make my hair fall out. That's quite difficult to face when you're a single young adult fighting for your life." To avoid losing long, thick clumps of her shoulder-length hair, Joy cut her hair extremely short. But it was still falling out. She had to vacuum her pillow case daily as the hair continued to come out.
After experiencing a "hair-loss shower," when much of her hair came out and landed on the shower drain when the stream of water hit it, Joy chose to have her head completely shaved. "In that horrifying moment as a young bald woman, I recognized I still had a choice in how I responded to what was happening to me. I could go home and throw the covers over my head and cry about it, but where would that get me? Then I'm an angry person who's trying to beat cancer. I'd heard, 'Laughter is the best medicine.'"
So Joy chose a different response! As a brunette with brown eyes, Joy had always wondered what she'd look like as a redhead. She found a wig catalog, and looked for new possibilities! She ordered that redhead wig, along with other colors, styles, and lengths.
When the wigs arrived, Joy decided to get her friends - scattered everywhere - involved harnessing the power of social media. "My mom took pictures of me 'modeling' the different wigs, and I posted the pictures online on my Facebook page as well as on my CaringBridge site. We numbered the looks and invited friends to 'vote' on their favorite look." This offered friends who didn't know how to respond a way to show their encouragement, and support for Joy.
"It was really fun to go online, and see which looks were getting the most 'likes,' and read all the encouraging comments from supporters! The feedback helped me pick new looks for the hot Summer - from very short styles to a look with shoulder-length hair that looked very close to how I did before hair loss! Never had it been so easy to change up my look," Joy said. "It was exciting and actually fun to have all these different hair options now! I chose to embrace it!"
Sharing this story -- and unique idea -- on the anniversary of her "Facebook Fashion Show" is inspiring many others to respond to their hair loss from cancer with joy, and a positive attitude. "It truly is how you choose to respond to what happens to you that ultimately dictates the outcome," Joy said.