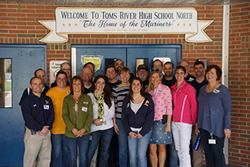 (PRWEB) May 21, 2014
This Memorial Day, as our nation honors those who made the ultimate sacrifice for our country, many of its citizens from coast to coast will be working to help their fellow troops and their families. Over 1,600 schools, companies, and government agencies are taking part in a nationwide movement to support returning veterans this Memorial Day and help them get the assistance they need as they come home.
During the "Jeans for Troops" program, schools, companies, and all other employers that choose to participate will allow their employees to wear jeans to work on May 22 in exchange for a $5 donation to the GI Go Fund, a 501(c)(3) nonprofit organization dedicated to assisting all veterans with their needs upon their return home from combat.
The GI Go Fund is an organization on the cutting edge of offering support to veterans, providing veterans with innovative ways of finding employment, securing their educational and health benefits, as well as providing aid and assistance to low income and homeless veterans. Since their founding, the organization has helped tens of thousands of veterans improve their lives and give them the capacity to provide and care for their loved ones.
"The amount that this event has grown in the past few years has been truly something special," said GI Go Fund Executive Director Jack Fanous. "What started a small group of loyal supporters has now swelled to over a million school teachers, government workers, and business employees alike standing together to lend a hand to their local veterans in need this Memorial Day. All of our participants are showing the true passion and love that all of us Americans have for our military men and women, and they are saying thank you to them in the best way possible."
In addition, the organization did tremendous work for veterans who were affected by Hurricane Sandy. They provided great rapid response to victims of the storm by delivering thousands of blankets and needed clothing and other supplies to shelters, as well as bringing Emergency Financial Assistance and Toys for the Holidays for the thousands of Veterans devastated by the storm in the months that followed.
This year, the GI Go Fund is looking to expand access to health care for veterans that go beyond the limited options currently available to them, working on giving veterans the ability to avoid the lengthy and outrageous VA backlog and instead choose their own doctor.
The drive has received strong support from all levels, including statewide government. The NJ State Assembly will issue a proclamation that will declare May 22 as "Jeans for Troops Day", calling on all New Jersey businesses, schools, and organizations to support our troops in honor of this Memorial Day.
The event is being sponsored and promoted by the New Jersey Education Association (NJEA), who has worked hard to encourage its members to support their local military veterans. The group has sponsored the drive each of the past three years, and its members have consistently been among the group's biggest supporters.
Proceeds collected by the GI Go Fund will be utilized to go to the veterans who live in their local community. Veterans in communities like Toms River, NJ are already benefiting from this program, as teachers and staff at the Toms River North High School hosted the drive in late April and donating it to the organization, who in turn pledged the funds to the local Ocean County Veterans Office in the town.
For more information on the Jeans for Troops Fundraising Drive, please contact the GI Go Fund at 866-389-GIGo(4446) or email jeansfortroops(at)gigofund(dot)org.