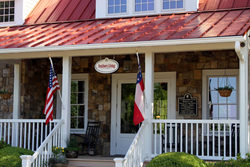 Southern Living Inspired Community
Atlanta, Georgia (PRWEB) May 22, 2014
It is a race and a gamble to find the best place to retire in this country. However, there is one North Georgia gated mountain community that is showing plenty of reward and little risk of disappointment for Baby Boomers in 2014. Thanks to the Kentucky Derby season and one of the most anticipated Currahee Club social club events of the year, retirees are quickly learning that the area of Lake Hartwell is the place to win during their Golden Years.
Currahee Club was recently named one of first ever Southern Living Inspired Communities.
On Saturday, May 3, 2014 residents of the Currahee Club and owners of Lake Hartwell homes came together to support a special cause and party their hearts out. The Annual Kentucky Derby Gala was the highlight of the season as property owners and their guests don their Derby hats and sip Mint Juleps in style. The Currahee Women's Club successfully raised $2,000 during the event for the benefit of the Boys and Girls Club of Toccoa.
The North Georgia gated community attendees had the chance to win a women's hat contest or a men's tie contest, raffle prizes and play games on the lawn of the Currahee Clubhouse. A cash bar and silent auction was present, while Southern Fare Hors d'oeuvres and high-end desserts will preoccupy everyone's appetites. All proceeds from this spectacular Currahee Club social club event benefited the Boys and Girls Club of Toccoa.
Residents living in the Lake Hartwell homes of the Currahee Club are loving the social events of the community. Besides the Kentucky Derby Gala, Currahee Club members will enjoy many more events. From Saturday morning tennis tournaments to bowling teams, this community gives retirees the opportunities to build friendships and explore new interests on a regular basis. Some recent events include: an organized group tour of the Taste of Toccoa, an Easter celebration at the Currahee Clubhouse, a Ladies Lunch and Learn Series or even regular artist lectures and receptions.
The social events and activities never end here at the Currahee Club, and the amenities are just as impressive. Baby Boomers living in this North Georgia gated mountain community can enjoy:
CURRAHEE CLUB AMENITIES
24 Hour Manned Gated Entrance
18 Hole Championship Golf Course designed by Jim Fazio
Practice Facility and Putting Greens
48,000 Square Foot Golf Clubhouse with indoor and outdoor dining
Currahee Club Amenity Campus with resort-style Swimming Pool, two Tennis Courts and Fitness Center
Children's Playground and Ball Courts
Currahee Club Lake Park and Covered Community Boat Docks
The Currahee Club social events and amenities are truly out of this world, but the overall location and architectural style of the homes are what make this place a Southern paradise. Located just along the Blue Ridge Mountains, this 1,200 acre community is the epitome of southern comfort and charm. Home designs are inspired by classic English cottage layouts and the customized interior and exterior accents add a unique touch to each one. Owners of Lake Hartwell homes or homes overlooking the golf course can decide what features suit them with the help of local homebuilders in the area.
Take a peek at Currahee Club homes
Retirees looking to live the the life will surely find it at the Currahee Club, and they can invite their friends and family too! Just recently, the Currahee Club opened their golf course doors to non-resident members. While the community is still private, the Currahee Club offered limited memberships to people who wanted to take advantage of the amazing Jim Fazio golf course and 48,000 sq. ft. clubhouse. Thanks to this new initiative, more social groups and activities are being organized each day and retirees living in this Southern Living Inspired Community can invite their friends and family along for the ride.
To learn more about becoming part of this friendly North Georgia gated mountain community, contact the Currahee Club direct at 888.560.2582.
About Real Estate Scorecard:
Real Estate Scorecard writes unbiased real estate reviews providing in-depth information about popular gated communities in Florida, Georgia, North Carolina, South Carolina and Tennessee, all in an effort to help people discover where to retire in the Southeast.
Website: http://realestatescorecard.com