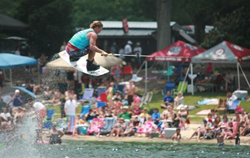 Watch the world's finest water sports athletes representing more than a dozen countries competing for the largest purse in the United States at the Masters Water Ski & Wakeboard Tournament.
PINE MOUNTAIN, GA (PRWEB) May 22, 2014
It's time celebrate the arrival of Summer at Callaway Gardens' Memorial Day Weekend Festival, May 23-26, 2014. Catch a few rays, kick up a little sand, enjoy a variety of music and watch the world's best skiers and riders competing at the 55th Annual Masters Water Ski & Wakeboard Tournament®.
As is tradition at Callaway Gardens, Memorial Day Weekend is full of championship waterskiing and wakeboarding on Robin Lake. Watch the world's finest water sports athletes representing more than a dozen countries competing for the largest purse in the United States at the Masters Water Ski & Wakeboard Tournament.
Competition events include tricks, slalom, jump, wakeboard and wakeskating. The Junior Masters elimination rounds and finals will be Friday, May 23, at 7:30 a.m. The Masters elimination rounds will begin at 8 a.m. Saturday. Sunday will start with Opening Ceremonies at 10 a.m. and finals at 10:30 a.m. with participants competing for the coveted title of Masters Champion.
Special tournament activities on Robin Lake Beach will include water sports exhibitors, concessions and other festivities for spectators to enjoy throughout the event.
Memorial Day Weekend opens Robin Lake Beach for the Summer – with lots of exciting activities for 2014, including new Bumper Boats* (with squirt guns for more fun); Aqua Island*, an expansive floating playground; and enormous, inflatable Water Slide*, new two-person roadster pedal-power go-karts*. Robin Lake Beach also will continue to offer its traditional activities of swimming, shuffleboard, table tennis, and upgraded miniature golf.
Guests can add some adrenaline to their day on Callaway Gardens' year-round attraction, TreeTop Adventure*, which features 36 aerial challenges and zip lines. Reservations are suggested. Guests also can enjoy the many attractions unique to Callaway Gardens including the Birds of Prey show featuring free-flight hawks, owls and falcons; butterflies flying about in the Cecil B. Day Butterfly Center; beautiful horticultural displays in the John A. Sibley Horticultural Center; and a bounty of growing vegetables and flowers in Mr. Cason's Vegetable Garden. The 10-mile Discovery Bicycle Trail takes guests on a leisurely ride by all of these great attractions. A tennis match, round of golf, or time spent fishing by boat in other Callaway Gardens lakes are enjoyable ways to begin or end a great day.
Special Event admission applies to the Memorial Day Weekend Festival for Saturday and Sunday events ($25/adult; $12.50/children age 6 to 12; children 5 and younger are admitted for free). At the event, admission can be upgraded to Pavilion Passes for premium seating on a limited, first-come basis. Callaway Gardens Annual Passholders receive half-price admission. For this special holiday event, military personnel receive half-price admission for themselves and up to five guests in the same vehicle with presentation of active, retired, or veteran military identification.
Make this experience a weekend getaway. Stay for the weekend and enjoy the new TreeTop Adventure and Callaway Gardens' array of facilities, attractions and special events on a special Memorial Day Weekend overnight package.
For more information or to make a reservation, call 1-800-CALLAWAY (225-5292) or visit http://www.callawaygardens.com.
Make this Memorial Day Weekend one to remember for a lifetime!
*Fee charged
About Callaway Gardens
For 60 years, Callaway Gardens has provided "a place of relaxation, inspiration and a better understanding of the living world" for millions of visitors. Owned and operated by the non-profit Ida Cason Callaway Foundation, Callaway Gardens includes a garden, resort, preserve and residential community on 13,000 acres in Pine Mountain, Georgia. Highlights include a butterfly conservatory, horticultural center, discovery center, chapel, inland beach, nature trails and special events throughout the year.
In addition, Callaway Gardens offers nearly 80,000 square feet of meeting space, 685 guest rooms, restaurants, shops, golf, tennis, fishing and more.
Five unique, close-knit residential communities--with custom home sites, lakefront properties and cottages on the golf course – offer an ideal home away from home or full-time residence.
Callaway Gardens is home to a 4,610-acre forest preserve which is under conservation easement. This conserved, sustainably-managed land is used for biological studies and environmental education programs.