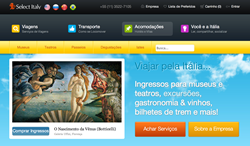 The launch of our Brazil platform is the second in line of our long term global projects to bring our Italian expertise to new markets.
Chicago, IL (PRWEB) May 22, 2014
Select Italy (http://Selectitaly.com), the leading Italian travel expert, is pleased to announce the launch of its full-service website completely dedicated to Brazilian and Portuguese-speaking travelers.
The new platform was developed to offer a personalized experience to those traveling to Italy from Brazil and other Portuguese-speaking countries and was officially launched on April 29th. It is now available at Selectitaly.com.br.
Brazilian and Portuguese travelers interested in traveling to Italy can find on Select Italy's new website all the most popular services tweaked to meet the needs and enhance the experiences of the Portuguese-speaking visitors. Italy-bound travelers will have at their fingertips all kind of services for planning a trip to Italy: they can find skip-the-line museum tickets including the much-in-demand Last Supper, Vatican and Sistine Chapel, as well as secure their tickets and seat reservations for the newest high-speed trains that connect the major Italian cities.
For those that want to experience Italy at its best, Select Italy has access to the most exclusive opera houses in Italy, food and wine experiences and the best Portuguese guides, making the site the perfect one-stop shop for all services and materials needed for the perfect Italian vacation.
After the launch of the Russian Platform last year, this is the second branch completely committed to meeting the linguistic and cultural travel needs of non-English speaking travelers. Select Italy has a team of native-speaking travel professionals that will support and offer a high quality of customer care through e-mails and a dedicated call center.
"As we continue down the path set for us by Andrea Sertoli, the founder of Select Italy, we are proud to announce the launch of our Brazil platform, selectitaly.com.br, the second in line of our long term global projects to bring our Italian expertise to new markets," says Jacopo Sertoli, CEO and President of Select Italy, "We are pleased to be able to offer our site, services and customer care in Portuguese to our Brazilian and Portuguese-speaking clients."
To learn more about the new platform, visit Selectitaly.com.br and for information e-mail info(at)selectitaly(dot)com(dot)br.