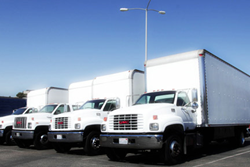 San Jose, CA (PRWEB) May 21, 2014
IT and server relocations are often the most stressful aspect of moving for many San Jose businesses according to focus groups that have taken place over the past month. This is because businesses sometimes must close their doors for periods of time that lead to one branch's profits being siphoned away to another. In order to help local businesses keep their doors open for the duration of the moving process, England Van Lines are planning to expand their own hours of operation, especially among their computer engineers and customer service representatives.
A spokesperson for England Van Lines explained why these changes have become necessary. "In order to promote economic growth in the region, we've chosen to do our part by making ourselves available to local businesses around the clock. We've realized that new trends and new business structures have developed over the past few years and, in order for everyone to adapt, everyone has to do their part to help each other out. It's better business for everyone involved, and current profits for our San Jose branch support this new initiative."
This San Jose cross country mover is rated among the top IT and server relocation specialists in the country, and they are aiming to keep that title for a long time. Their computer engineers have agreed to the company's idea of expanding hours around the clock, and many have volunteered to take overnight shifts. Many of these engineers are accepting new customer service responsibilities as a condition of this change, and the company expects that these new skills will lead to a wave of promotions in the coming months.
The company's mobile application and website communication features are also undergoing an expansion, as many of these programmers now have the opportunity to work and institute new changes at night that would have otherwise taken longer to complete.
In addition, area companies can now stay open during the day while the San Jose cross country mover takes care of packing responsibilities overnight. In order to remain committed to keeping local businesses operating even during a relocation, the company has recently ordered new rigs capable of transforming compartments into wireless hotspots that will keep these servers running and online as long as necessary during specific hours chosen by the client.
When the transition to new IT and server hours is made, more details will be available at the company's website: http://EnglandVanLines.com.