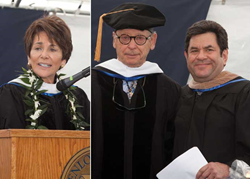 To date, over 160 Menlo College students have received scholarships from The Bernard Osher Foundation.
Atherton, CA (PRWEB) May 22, 2014
John Pritzker '76, Founder and Managing Partner of Geolo Capital, was the keynote speaker at Menlo College's May 2014 commencement. Bernard Osher, Founder and Treasurer of the Bernard Osher Foundation, was presented with an honorary doctorate for his extraordinary philanthropic efforts on behalf of higher education. The Honorable Anna Eshoo, U.S. Representative for California's 18th Congressional District, received the President's Medal.
"To date, over 160 Menlo College students have received scholarships from The Bernard Osher Foundation," said President James J. Kelly in thanking Mr. Osher for his generosity in providing educational funding. The Bernard Osher Foundation seeks to improve quality of life through support for higher education and the arts.
The Honorable Anna Eshoo was recognized for her distinguished public service and her support of higher education. Congresswoman Eshoo said, "Look at the diversity of the graduating class of 2014. You're beautiful. You're the face of America, and the face of the world. You're the hope of our future. It's going to be up to you to shape that future not only for yourselves but for the country that has given so much."
John Pritzker '76 spoke about the nobility of service and being a servant leader. Pritzker, a 25-year veteran of the hospitality industry paid tribute to his Menlo College professor Señor Carlos López recalling how, "I valued him as a teacher, mentor, and an all-round good guy." Pritzker suggested that students, "Identify somebody you admire and cultivate a relationship because a mentor will change and enhance your life in incalculable ways. I hope you will consciously make a decision to become someone's mentor. The time and effort you spend mentoring can be impactful through generations."
"Try being a little less 'selfie' and a little more selfless," Pritzker told the audience. "A servant leader is a leader who understands the importance of sharing one's power and puts the needs of others before oneself. Servant leaders help people perform to the peak of their abilities. Bernard Osher, through his quiet concern for people, has enriched more lives than I can tell you. He's the walking definition of a servant leader and mentorship at its finest."
About Menlo College Menlo College, Silicon Valley's Business School, was established in 1927 and is located 30 minutes south of San Francisco. It is a private, four-year, accredited, residential business college located in Atherton, California.