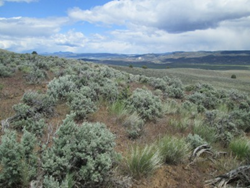 "This CCAA came from the local landowners, not the agency folks coming to them," said Zola Ryan, district conservationist for the Natural Resources Conservation Service out of Hines, Oregon, "We've had local landowner buy in all along."
Hines, Oregon (PRWEB) May 21, 2014
The NRCS-led Sage Grouse Initiative joins the celebration today in the signing of a major conservation agreement with landowners in Harney County, called a Candidate Conservation Agreement with Assurances. Ranchers in a CCAA agree to voluntarily manage their lands to remove or reduce threats to sage grouse, and in return receive assurances that should the species be listed under the Endangered Species Act, the landowners will not face more regulatory requirements. The U.S. Fish and Wildlife Service and Harney Soil and Water Conservation District officially sign the CCAA today.
"This CCAA came from the local landowners, not the agency folks coming to them," said Zola Ryan, district conservationist for the Natural Resources Conservation Service out of Hines, Oregon, "We've had local landowner buy in all along."
Thirty-nine landowners with ranches in the Steens Mountain and other sage grouse strongholds of the county stand ready to enroll a quarter million acres. The CCAA covers one million acres of some of the best sage grouse habitat in Oregon.
Harney Soil and Water Conservation District is the permit holder of the CCAA, an arrangement that suits the landowners well, Ryan said, because of the high local trust for the District. The U.S. Fish and Wildlife Service signs the CCAA and gives the authority to the District for carrying it out.
The Sage Grouse Initiative has reserved funding in Oregon to be available to the landowners of the CCAA to give them the jumpstart they need to put conservation measures into place, such as removing juniper trees that are encroaching upon sage-grouse habitat.
"This CCAA is a template for other counties in Oregon too," Ryan said. "They're standing by and ready to follow suit, so we can anticipate a real increase in participation and conservation for sage grouse."
The Harney County CCAA official signing today includes a second significant event. The Bureau of Land Management will be signing a Candidate Conservation Agreement (CCA) with the Roaring Springs Ranch on Steens Mountain. A year ago, the BLM signed an agreement that made it possible for permittees to come forward under a CCA to voluntarily enroll their allotments in site-specific plans to benefit sage grouse in return for a more predictable set of rules on those lease lands. The Roaring Springs Ranch is the first to step up to enroll.
Please see the Sage Grouse Initiative website release with photos.
Please see the U.S. Fish and Wildlife Service Press Release on today's historic Harney CCAA event.