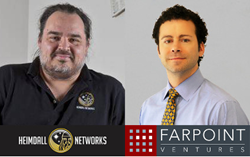 Because DDoS attacks are so easy to launch, they have become the preferred weapon of hackers and political groups
Boston, MA and Sydney, Nova Scotia (PRWEB) May 26, 2014
Heimdall Networks, a leading provider of Distributed Denial of Service (DDoS) detection and mitigation solutions, and Farpoint Ventures LLC, a leading provider of venture finance and international sales and marketing outsourcing services, announced today that they have entered into a three-year agreement to develop the Japan market.
Under the agreement, Farpoint Ventures will act as an extension of Heimdall's sales and marketing team to recruit and sign distributors, value added resellers and systems integrators to resell the "Heimdall Security Appliance" (HSA) family and integrated "Bifrost Cloud Mitigation" services in Japan. Farpoint will also be responsible for sales engineering support through its Tokyo office.
"Whether purchased as an appliance or a cloud-based protection service, Heimdall Networks gives enterprises and governments 24x7 peace of mind that their networks and critical internet facing applications are protected from DDoS attacks," said Jim Deleskie, Founder and CTO of Heimdall Networks. "Both HSA and Bifrost are part of an integrated platform that is uniquely purpose-built to detect and mitigate all forms of volumetric and application attacks."
"Because DDoS attacks are so easy to launch, they have become the preferred weapon of hackers and political groups," said James Ryan, Managing Partner of Farpoint Ventures LLC. "Heimdall Networks' purpose-built solutions provide robust protection and scale at a far superior total cost of ownership (TCO) compared to any alternative offering on the market today."
Heimdall Networks' CTO Jim Deleskie will be presenting the Heimdall DDoS solution at a seminar in Tokyo on May 30, 2014.
About Heimdall Networks
From Norse mythology, the all-seeing and all-hearing Heimdall vigilantly stands guard, watching against attacks. In the same spirit, Heimdall Networks is a network security company that stands guard and protects its customers' networks and internet applications from all forms of DDoS attacks, arguably the biggest and fastest growing threat to the internet.
Email: press(at)heimdallnetworks(dot)com
Phone: +1 902 270 5550
About Farpoint Ventures LLC
Farpoint Ventures is a venture finance fund with a unique services platform that quickly develops global markets for its portfolio of venture-backed technology companies. Farpoint's global network of experienced technology sales professionals can quickly bring a product to markets from Asia to Africa, Europe to the Middle East and the United States to Latin America, developing sales channels, reseller networks and bringing in international revenues years ahead of when most startups would have the resources to go global on their own. Farpoint's US headquarters is in Boston, MA.
Email: press(at)farpointventures(dot)com
Phone: (415) 580-2116