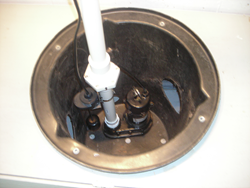 This is definitely a case of "Pay me now, or pay me later."
Buffalo, NY (PRWEB) May 27, 2014
Are you tired of the cold and rain yet? The long, cold, brutal Winter of 2013-2014 has segued into a colder than normal Spring in many areas and people are getting sick of it and sick from it, too. Anyway, the focus here is on basement flooding due to sump pump failure and prevention by pro-actively installing a backup sump pump.
Here are 11 of the most common causes of sump pump failure, not in any particular order:
1. Sump pump burned out
2. Sump pump accidentally left unplugged
3. Sump pump jammed by mud or a stone
4. Broken pump impeller
5. Float switch shorted out
6. Float stuck against the side of the sump
7. Tripped circuit breaker or blown fuse
8. Damaged power feed line
9. Too much incoming water for the size of the pump
10. Clogged or frozen sump pump discharge pipe
11. Oh yes, and power failure, too
As you can see, there are many reasons other than power failure that can cause a sump pump to fail. Since these things can happen at any time and certainly unexpectedly, it would seem foolish to ignore it. Being penny wise and dollar foolish in this regard is the not best way to avoid the damage and mess associated with a flooded basement. This is definitely a case of "Pay me now, or pay me later." And in this case it is a modest outlay now to avoid a catastrophic outlay later.
Insurance rarely covers much of this type of damage, by the way. All too often people are lulled into a false sense of security by having homeowner's insurance. The thing is, there are often very strict limits on ground water infiltration, and even when you purchase an additional sump pump rider, it too has specific limits.
Bill Bonifacio, President of Base Products Corp, experts in basement flood prevention, shared this story, "A few years ago good friends of ours had a sump pump failure. It was a few days before they discovered it because no one had been in the basement for a while. By that time, there were several inches of water on the floor. It ruined a lot of boxes and other items and they barely saved the hot water tank and furnace. Insurance barely covered the cleanup and drying out process. There was no money left to cover their soaked belongings at all." He went on to say, "Even a generator would not have helped because there was no power failure. The pump simply died and there was no backup pump, or water alarm so they had water on the floor."
Hopefully they learned their lesson and got a backup sump pump with a water alarm, too!
The bottom line is this: Avoid basement flooding caused by sump pump failure by installing a battery powered or water powered backup sump pump. Regardless of the cost, you will be thankful not only for the damage you'll avoid, but for the peace of mind it gives you each and every day as you leave the house for work, or to go shopping, or to leave on vacation, or to go anywhere, for that matter. You can relax and sleep better, knowing that you took proper steps to protect your basement from flooding.
Base Products Corporation, located in Buffalo, NY, is a manufacturer of flood prevention products for over 14 years. They specialize in backup sump pumps, both water powered and battery powered, along with water alarms and automatic water shutoff systems that can prevent or limit damage to your home from leaking pipes and underground infiltration. They have a web site at http://www.basepump.com and can be reached at 800 554 1426.