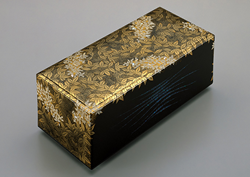 Portland, OR (PRWEB) May 23, 2014
At a time when the traditional Japanese art of urushi (lacquer) is enjoying a renaissance of interest among collectors and designers around the world, the Portland Japanese Garden is pleased to announce the Art in the Garden exhibition, Urushi: Masterpieces of Lacquer Ware by Kazumi Murose, Living National Treasure of Japan (October 25–November 16, 2014).
In 2008, the Japanese government recognized Kazumi Murose as a Living National Treasure, the popular expression that describes an official designation that goes only to those who hold the very highest level of skill in a traditional craft. Murose specializes in the technique of maki-e, sprinkled gold and silver decoration, and in raden, inlaid mother-of pearl, two traditional techniques for the embellishment of urushi (or lacquer).
Kazumi Murose was born in 1950, the son of an accomplished lacquer artist. His decision to take on the family trade was made at a time when most young men his age in Japan were eager to leave the world of tradition behind to pursue modern careers in technology and business. Nonetheless, in 1970, he entered the Tokyo University of Fine Arts to study urushi with the legendary Matsuda Gonroku (1896-1986).
He is known internationally both as an individual artist and as a conservator of historical lacquer artifacts. In the early 1990s, he visited the Victoria and Albert Museum where he conducted a survey into the condition of lacquer collections in European museums. Since then, he has given courses there in lacquer conservation and has taught staff from the Museum's Conservation Department at his studio in Tokyo.
His innovative methods in the use of this ancient and sustainable natural material have resulted in remarkable new designs for contemporary purposes, including the limited edition items he creates for Vertu, a Parisian firm specializing in luxury objects.
The Art in the Garden 2014 exhibition series is supported by grants from The James F. & Marion L. Miller Foundation, William G. Gilmore Foundation, the Rose E. Tucker Charitable Trust, and the Jackson Foundation.
General information: Entrance to the Portland Japanese Garden's Art in the Garden exhibitions, set in the beautiful Pavilion Gallery, is included with Garden admission ($9.50 Adult; $7.75 Senior ([62+]; $7.75 College Student [w/ID]; $6.75 Youth [6-17]) during regular Garden hours. The Garden is located at 611 SW Kingston Avenue, Portland, OR 97205.
About the Portland Japanese Garden
Fifty years young, the Portland Japanese Garden is the most authentic Japanese garden outside of Japan. Situated on 5.5 acres at 611 SW Kingston Ave. in the West Hills of Portland, Oregon it features five traditional garden styles. The Garden is open daily except on Thanksgiving, Christmas, and New Year's. Visit online at japanesegarden.com.