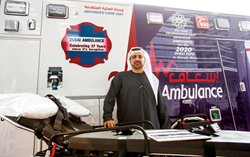 Palatine, Illinois (PRWEB) May 21, 2014
The American Board of Healthcare Law and Medicine, headed by Dr. Thomas A. Gionis, its President and Chairman of the Board, issued a "Certificate of Excellence" on May 20, 2014, to Colonel Khalifa Hassan Al Darrai, Executive Director, Dubai Corporation for Ambulance Services, Dubai, United Arab Emirates.
Dr. Thomas A. Gionis proclaimed that the Certificate of Excellence issued to Colonel Khalifa Hassan Al Darrai represented the Colonels' pioneering leadership against MERS – a devastating highly lethal respiratory coronavirus which has caused widespread deaths in the Middle East. "Colonel Al Darrai's leadership uniquely and bravely encompasses two prongs against one of the most deadly virus' in the regions: first, Colonel Al Darrai's wisdom has selected a state-of-the-art biomedical technology (MicroSafe Care) which not only kills all virus' within seconds – but also precludes any chance of mutation! It does so by disruptive technology – a technology which causes the virus and other pathogens to "explode" – disrupting and killing pathogens thereby precluding their ability to adapt and mutate to conventional approaches."
"Second," Dr. Gionis noted, "Colonel Al Darrai's unparalleled dedication to his community and the residents of the regions, caused him not only to seek an unparalleled disruptive technology to kill pathogens – but then he, with unbridled commitment and passion, implemented wide-spread education of all emergency medical and ambulance personnel and stocked the ambulances and emergency vehicles in Dubai with MicroSafe Care – so that all the people of Dubai – children, adults, citizens, residents and visitors – would be safe."
"It is his unparalleled dedication to his people, his community, and the guests to his country, which he strives to protect and at all times maintain safe, which sets him apart and makes Colonel Al Darrai a distinguished leader and pioneer in taking significant steps to halt emerging epidemics and disease – and that is the mark of a true statesman," Gionis said.
Corona-Virus has infected 572 people and killed 173 – that is about a 30% death rate. SARS only had a death rate of 10%. "The high death rate did not scare the Colonel – he took intelligent, thoughtful, and brave action to protect the people he is commissioned to serve!!!" That is a sign of a leader – and a pioneer! That is the sign of true Excellence!
About
The American Board of Healthcare Law and Medicine (ABHLM) is a private research and educational organization which functions as a "think tank." The ABHLM conducts its activities on various aspects of public health, public policy, healthcare law and bioethics. The Dubai Corporation for Ambulance Services, Dubai, United Arab Emirates, is a governmental agency commissioned with the protection of health, welfare and safety of the residents, citizens and visitors of Dubai.
Contact Information
Thomas A. Gionis, MD JD MPH MBA MHA LLM FAIHQ
Dr.TomGionis(at)UCLA(dot)edu