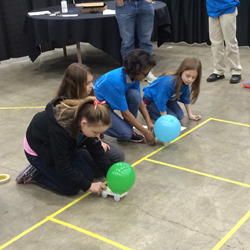 We thank Alcoa for their support, as well as the teachers and industry volunteers who helped make this year another success. - Chris Ciuca, Director of Pre-Professional Programs, SAE International
WARRENDALE, Pa. (PRWEB) May 23, 2014
SAE International's A World In Motion® (AWIM) program has wrapped up another successful run with the Cleveland Metropolitan School District.
The program (in the schools for the last eight years) teaches children to enjoy STEM (science, technology, engineering and mathematics) education. It is made possible through a grant provided by Alcoa Foundation.
Through February, more than 850 students from 22 schools participated in the AWIM JetToy Challenge. Designed specifically for elementary school students, the JetToy Challenge begins with a proposal from a fictitious toy company called EarthToy Designs. The company wants students to provide a variety of interesting designs for a new line of balloon-powered vehicles made from inexpensive, common materials that will appeal to other children.
Working in design teams, students build and test model JetToys using different nozzles, and collect and analyze data to understand the effect of nozzle size on the performance of the toys. Students then create other designs and test them, concluding the project with a formal presentation of their final work.
"The JetToy Challenge really helps to make STEM learning fun for school-age children," Chris Ciuca, Director of Pre-Professional Programs, SAE International, said. "We have enjoyed a long and fruitful partnership with Alcoa Foundation and the Cleveland Metropolitan School District. We thank Alcoa for their support, as well as the teachers and industry volunteers who helped make this year another success."
SAE International is a global association committed to being the ultimate knowledge source for the engineering profession. By uniting more than 145,000 engineers and technical experts, we drive knowledge and expertise across a broad spectrum of industries. We act on two priorities: encouraging a lifetime of learning for mobility engineering professionals and setting the standards for industry engineering. We strive for a better world through the work of our philanthropic SAE Foundation, including programs like A World in Motion® and the Collegiate Design Series™.