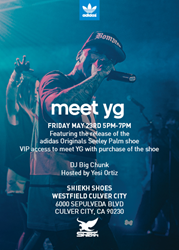 Culver City, CA (PRWEB) May 21, 2014
Sneaker and music fans alike are invited to the unveiling of the newest Seeley sneaker by Adidas, the "Palm", found exclusively at Shiekh Shoes. To celebrate, Shiekh Shoes and Adidas have teamed up with recording artist YG for a special in store meet and greet this Saturday, May 23, at Shiekh Shoes Westfield Culver City.
On Saturday from 5 p.m. to 7 p.m., the Shiekh Shoes Culver City location will be abuzz with music provided by Los Angeles DJ Big Chunk, along with a question and answer and autograph signing by YG. Power 106 host Yesi Ortiz will introduce the new Seeley "Palm," which features the original Seeley silhouette, including famous three stripes on the body, a black upper, white sole and intricate blue palm tree detail. Launch-day attendees will be the first to be able to purchase the sleek Shiekh Shoes exclusive sneaker.
"This shoe was inspired by California lifestyle, blue skies and palm trees," said Jason Ovshak, vice president of E-commerce at Shiekh Shoes. "We are proud to partner with adidas to produce a sneaker that represents West Coast street style."
Shiekh Shoes is a footwear and apparel retailer selling products for men, women and kids from top brands like, Adidas, Converse and Puma. Based in Ontario, Calif., Shiekh Shoes operates nearly 140 stores in California, Oregon, Nevada, Washington, Arizona, New Mexico, Illinois, Tennessee, Michigan and Texas as well as an online store at ShiekhShoes.com. Products featured range from athletic shoes and sneakers to women's dress and casual shoes and boots to shoes for the kids. Special offers include new releases and exclusives from top brands like Jordan, Nike, and Reebok.