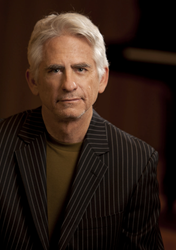 Rolling Hills, CA (PRWEB) May 23, 2014
Jazz pianist and composer, David Benoit, and award winning, Chinese-Austrian born pianist, Rueibin Chen, will perform in a once-in-a-lifetime performance of Two Pianos as East Meets West. Both Mr. Benoit and Mr. Chen will bring their own unique styles of playing to create a musical blend of jazz and classical works guaranteed to satisfy an array of enthusiasts.
Zipper Hall, located at the Colburn School in Los Angeles, is the venue of choice to house this dynamic duo. Many prominent orchestras and recording artists have performed there adding Benoit & Chen to this list.
Although Mr. Benoit is considered to be one of the finest jazz pianist worldwide, he has contributed a lot to the classical genre as well. Mr. Benoit has conducted the Los Angeles Philharmonic, the symphonies of London, Nuremberg, San Francisco, Atlanta, San Antonio and San Jose and has written numerous etudes and symphonies to date.
Rueibin Chen is internationally acclaimed for his technical brilliance, immense energy, and intense artistic expression. From Taiwan, Mr. Chen is the best-selling CD classical musician in greater China and has toured and received recognition worldwide.
Both Mr. Benoit and Mr. Chen are advocates in mentoring young musicians. It comes at no surprise that they would welcome the Asia America Youth Symphony Woodwind Quintet to open the show with musical selections performed by students mentored by Mr. Benoit. These talented young musicians have had opportunities to perform with prominent recording artists such as Keiko Matsui and Grammy nominated jazz fusion group, Hiroshima, to name a few. They have also participated on several rehearsals and recordings with Mr. Benoit.
Don't miss this opportunity to reserve tickets for this ONE NIGHT ONLY concert. Go to the Asia America Symphony Association website or call 310.377.8977. Seating is limited.
###
About David Benoit - David Benoit's career spans over three decades as a contemporary jazz pianist and composer, including over 28 solo recordings that have garnered him five Grammy nominations. Benoit's talents expand into symphonic orchestral music endeavors that include his ongoing role as Music Director & Conductor of the Asia America Symphony Orchestra and Youth Symphony along as the on-air radio host weekday mornings on KKJZ 88.1 FM.
About Rueibin Chen – Rueibin Chen started his career as a child prodigy and concert pianist at age ten when he made his debut with the Taipei Symphony Orchestra. From then on his career soared touring regularly throughout the world, performing in major concert halls, such as Carnegie Hall and Lincoln Center in New York, Kennedy Performing Arts Center in Washington, D.C., Walt Disney Concert Hall in Los Angeles and numerous other venues. He has been selected as the soloist for many orchestral world tours, including the Taipei Symphony, on its Asian tour and Kaohsiung City Traditional Orchestra of Taiwan on its America tour to name a few. Mr. Chen works with underprivileged and disabled youths who may want to pursue a career in music by giving them opportunities to perform with him on stage.
About Asia America Symphony Association (AASA) – Mission Statement: The Asia America Symphony Association is dedicated to enriching the communities of Southern California with classical and jazz music through a union of eastern and western cultures, presenting concerts, and promoting the development of young musicians.
Zipper Hall - located at the Colburn School, 200 S Grand Avenue, Los Angeles, CA 90012. 310.795.4280.