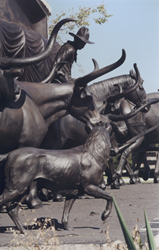 Duncan, OK (PRWEB) May 28, 2014
The Chisholm Trail Heritage Center (CTHC) gained yet another accolade at the Oklahoma Travel Industry Association's RedBud Awards Gala this month. Added to the numerous other accolades that this outstanding museum gathered in 2013, it is easy to understand why it is recognized as one of the top attractions in the state year after year.
The RedBud Merit Award for Outstanding Temporary Exhibit in 2013 acknowledged the body of work that the CTHC developed during a three year investigation of minority cowboys, Vaqueros in 2012, Black Cowboys in 2103 and Native American Cowboys, Ranchers and Artists scheduled for summer of 2014.
The Black Cowboys on the Chisholm Trail, exhibited June 1, 2013 to August 31, 2013 showed that cowboys of African American descent planned pivotal roles in the history of the West and today are some of rodeo's biggest names and champions. Until recently the story of the black cowboy was untold by Hollywood and very few scholars focus on the contributions these men made to the West. Most experts agree that more than one in four cowboys on the trail was a minority. They were the roughest, toughest cowmen who proved their worth in post-civil war America by doing jobs that were difficult and dangerous.
Modern day African American artists, cowboys, historians and authors were selected to be featured in the exhibit to reinforce the idea of black cowboys as both a historic fact and present day drivers of western culture. The exhibit showed the contributions that these men made but also sought to show the difficulties that these true trailblazers had to overcome. The exhibit featured Robert Peterson art, Ron Tarver photography, author and eight time PRCA World Champion Fred Whitfield and historian re-enactor Wallace Moore. Education sessions, the documentary "African-American Cowboys:The Forgotten Man of the West" and the National Day of the Cowboy Celebration complimented the exhibit as well. A short drive to Monument Hill completed the exhibit as black cowboy, Tom Latimer's grave stone is visible.
The completion to the three year exhibit featuring minority cowboys will begin in June 2014 and will close at the end of August. Come see for yourself why the CTHC is an award winning museum.