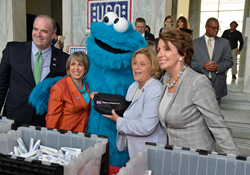 To be in our nation's capital during Military Appreciation Month in the company of our dear friends from Sesame Street, and assembling USO Warrior Care Packs is a reminder of our commitment to helping those who sacrifice..," said John Hanson, USO Sr. VP.
Arlington, VA (PRWEB) May 21, 2014
TWITTER: @the_USO & @SesameStreet make more #USOMoments at Service Project Event with help from Elmo and others
Today, the USO enlisted help from Sesame Street and members of Congress to assemble 1,500 USO Warrior Care Packs for wounded, ill and injured troops at its Service Project event on Capitol Hill. This year marks the second straight year Sesame Street has joined the USO for its bi-annual event. Elmo, Cookie Monster, Grover and their new friend, Katie, were also there to help out. The fun, furry friends are currently in town performing for local military families as part of the Sesame Street/USO Experience for Military Families - a free, traveling tour that has been visiting military installations around the world since 2008. **USO photos included**
"The USO has always symbolized the outward expression of America's commitment to our warriors, and now more than ever I think it's so important," said Congressman Tim Walz, USO Congressional Caucus Co-Chair. "The American people care deeply, but they're busy… That's where you and the USO come in to make sure to let them know that we are thinking of them—every moment of every day."
The Warrior Care Packs contain essential items our wounded, ill and injured troops use every day, from shampoo, deodorant and razors to toothbrushes and toothpaste. These kits remind our troops that they are not alone during their journey to recovery. The packs also include The Electric Company Military Family Guide, a Sesame Street brochure that contains tips, activities and information for military families to help them through difficult transitions.
"Each and every Service Project we host goes to the heart of what we do at the USO," said John Hanson, USO Senior Vice President. "To be in our nation's capital during Military Appreciation Month in the company of our dear friends from Sesame Street, and assembling USO Warrior Care Packs is a reminder of our commitment to helping those who sacrifice for us."
This year, the USO and Sesame Street are celebrating their six-year partnership and the Every Moment Counts campaign – a year-round, national USO initiative that rallies Americans to honor and create real, everyday moments that matter for our nation's troops and their families. Each month, the long-time partners honor a local service hero with the "Moment Maker" title. They will be highlighted on USO.org/Sesame and recognized for their assistance in bringing the tour to life on base. This month's "Moment Maker," Family Readiness Program Manager Joyce Murphy, hails from Marine Corps Base Quantico and is preceded by the tour's first "Moment Maker," Tech Sgt. Michael Royster of Scott Air Force Base in Illinois.
"Sesame Street is committed to our military families, and we want them to know that Elmo and all of the Sesame Street gang are here for them. We are honored to be a part of this USO service project," said Tracy Garrett, Assistant Vice President of Government Affairs, Sesame Workshop. "Today we say thank you to our troops and their families for their sacrifices and their commitment to protecting our nation."
The Sesame Street/USO Experience for Military Families has taken its message of facing fears and embracing change to more than 438,000 troops and military families. With help from Katie, a military child who is moving to a new place, and all of her friends, the tour has performed more than 786 shows on 145 military installations in 33 states and 11 countries. This year's stateside installment is scheduled to perform more than 200 shows at 69 military bases in 32 states by late October. Tomorrow the Sesame Street/USO tour will perform two shows at Dover Air Force Base in Delaware, then head North to New Jersey.
To learn more about the USO Warrior Care Pack program and the Sesame Street/USO tour visit http://www.USO.org.
MULTIMEDIA:
USO Service Project photos: http://bit.ly/1lCNa2p
# # #
About the USO
The USO lifts the spirits of America's troops and their families millions of times each year at hundreds of places worldwide. We provide a touch of home through centers at airports and military bases in the U.S. and abroad, top quality entertainment and innovative programs and services. We also provide critical support to those who need us most, including forward-deployed troops, military families, wounded warriors, troops in transition and families of the fallen. The USO is a private, non-profit organization, not a government agency. Our programs and services are made possible by the American people, support of our corporate partners and the dedication of our volunteers and staff.
In addition to individual donors and corporate sponsors, the USO is supported by President's Circle Partners: American Airlines, AT&T, BNSF Railway, Clark Construction Group, LLC, The Coca-Cola Company, Grand Canyon University, JCPenney, Jeep, Johnson & Johnson, Kroger, Northrop Grumman Corporation and TriWest Healthcare Alliance and Worldwide Strategic Partners: BAE Systems, BIC, The Boeing Company, ConAgra Foods, FedEx, Lockheed Martin, Microsoft Corporation, Procter & Gamble, TKS Telepost Kabel-Service Kaiserslautern GmbH & Co. KG and Wawa Inc. We are also supported through the United Way and Combined Federal Campaign (CFC-11381). To join us in this patriotic mission, and to learn more about the USO, please visit uso.org.
About Sesame Workshop
Sesame Workshop is the nonprofit educational organization behind Sesame Street, the landmark television program that reaches millions of children every day in more than 150 countries. The Workshop's mission is to use the educational power of media to help children everywhere reach their highest potential. Delivered through a variety of platforms, Sesame Workshop develops research-based content – including television programs, books, games, mobile apps and community engagement initiatives – that supports early childhood learning, helps prepare children for school, and addresses developmental needs. The Workshop's programs are tailored to the needs of specific regions and focus on topics that help young children and families develop critical skills for lifelong learning. For more information, visit us at http://www.sesameworkshop.org.