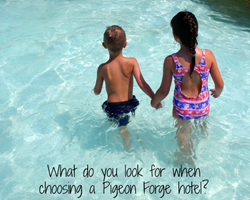 "No matter what you're looking for in a hotel, you'll likely find it in the Smokies."
Pigeon Forge, TN (PRWEB) May 28, 2014
Like most travelers, choosing a hotel for a Smoky Mountain vacation is all about location, location, location. That's what regional trip-planning resource PigeonForge.com found in a recent poll of site users and social media fans.
Sixty-six percent of survey respondents said the most important factor in choosing a Pigeon Forge hotel was the lodging's location and proximity to local attractions.
PigeonForge.com owner Jessica Bookstaff Doppelt isn't surprised by these results.
"People staying in Pigeon Forge like to be close to the center of the action," Doppelt said. "And that's what makes Pigeon Forge perfect. By staying here – on or off the Parkway – you're close to hundreds of family-friendly attractions, restaurants, great shopping destinations, arts and cultural centers, and of course, the beautiful Great Smoky Mountains."
Other top hotel amenities for Pigeon Forge vacationers include water park access (15 percent of respondents' first choice), internet access (10 percent), spa services (7 percent), and on-site dining (2 percent).
"We're so lucky to have a wide range of lodging options available here in Pigeon Forge," Doppelt said. "From the serene spa at RiverStone Resort to the rustic charm you'll find at Bearskin Lodge on the River, we've literally got it all. You can celebrate holiday magic year-round at The Inn at Christmas Place or take a trip back in time at the historic Gatlinburg Inn. No matter what you're looking for in a hotel, you'll likely find it in the Smokies."
Doppelt advises those planning a Smoky Mountain vacation to carefully weigh their options.
"Choose the amenities that are most important to you and go from there," Doppelt said. "If you're traveling with Fido, make sure you choose a pet-friendly Pigeon Forge hotel like Mountain Sky Lodge or Motel 6. If you're bringing Grandma and Grandpa, it might be wise to make sure your hotel offers ground-floor or handicap-accessible rooms. Kids love the waterpark at The Resort at Governor's Crossing and those with a taste for luxury love Music Road Inn."
Jessica encourages those planning a Pigeon Forge vacation to visit the site and click the "Stay Awhile" tab to browse extensive information about local lodging options.
"It's a great place to start," Doppelt said.
###
About PigeonForge.com:
Jessica Bookstaff Doppelt has helped thousands of people plan Smoky Mountain vacations since she launched PigeonForge.com in 2000. She grew up in Pigeon Forge and consider the Great Smoky Mountains her home. She is happy to share all the great things about the area and help you enjoy a perfect getaway through her website where you can easily browse lodging, attractions, restaurants, wedding information and more. For additional information, visit http://www.PigeonForge.com or follow PigeonForge.com on Facebook (http://www.facebook.com/pigeonforgevacations) and Twitter (http://twitter.com/pigeonforgecom).