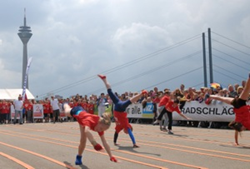 Don't be surprised when children in Düsseldorf ask passersby for a nickel or a dime after performing cartwheels on the street – they've been doing it for centuries.
Düsseldorf, Germany (PRWEB) May 22, 2014
Düsseldorf is a prosperous city, and maybe one reason is that denizens are putting money on the street for its youngest entrepreneurs: cartwheeling kids. Don't be surprised when children in Düsseldorf ask passersby for a nickel or a dime after performing cartwheels on the street – they've been doing it for centuries. Not just for money, mostly for expressing joy, and since 1937 also to train for the annual competition. The 77th Annual Carthweeling Tournament will take place on June 15, 2014, at 10:00 AM.
On a visit to Düsseldorf on June 15, you might see more than 700 girls and boys cartwheeling, and you can also see them all year long as Düsseldorf is filled with references to and statues of carthweelers, and of course actual kids doing them in the streets on the Rhine River. The most famous statue is the Carthweel Fountain in the city's historic Old Town, and you can even find cartwheelers on the doorknob at the famous Lambertus church.
No wonder figures with legs and arms extended are among the most popular souvenirs in Düsseldorf. It's a joy to live in this city, which ranks #6 on a list of global cities in terms of quality of life (source: Mercer Consulting Survey 2013), and children have expressed their joy by doing cartwheels as early as 1288, when Düsseldorf was granted town charter after a fierce battle. Another legend talks about a boy who jumped and held the wheel of Prince Jan Willem's carriage for safety after it broke in an accident, turning him into a living wheel.
On June 14, teams of boys and girls in the age groups 8-10 and 11-12 from schools in several countries compete in the championship. The children race each other doing cartwheels over a distance of 50 – 65 feet. More than 700 children are expected. The event takes place at the "Untere Rheinwerft," a popular area by the Rhine River Promenade and Old Town, filled with stores and restaurants.
Düsseldorf's tourism office is offering hotel and city specials for many of the city's events throughout 2014, including the 77th Cartwheel Championship. The package, called "Düsseldorf à la Card," can be booked right from the tourism office's website at https://www.duesseldorf-tourismus.de/en/hotel-packages/duesseldorf-a-la-card/. Prices start at €49 per night per person based on double-occupancy for a 2-3-star hotel in the city center and at €95 per person for a 4-star hotel. The package includes breakfast, one DüsseldorfCard (free public transportation within city limits plus 30 free or reduced admissions to city attractions), and a city information package. Please check the website for current information.
For more information about the Cartwheel Championship and the destination Düsseldorf, please visit: http://www.visitduesseldorf.de.
###
Düsseldorf Marketing & Tourism GmbH is the visitors and convention bureau of the city of Düsseldorf. Its responsibilities include tourism and city marketing, as well as conference and meeting marketing, hotel reservation services, fairs and convention services, city event ticket sales and advance ticket reservations. For more information, visit http://www.visitduesseldorf.de.
Düsseldorf Airport, Germany's Next Generation HubTM, offers several non-stop flights from US & Canadian cities (Atlanta, Chicago, Ft. Myers, Los Angeles, Miami, New York, Newark, Toronto), as well as convenient connections to many European cities. For more information about the airport, visit http://www.dus.com.