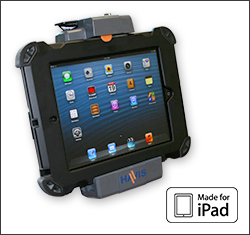 Warminster, Pa. (PRWEB) May 22, 2014
Havis Inc. recently announced that the new Docking System for the Apple iPad is now available for pre-order. Havis' first Apple-specific docking system will improve productivity by providing mobile workers with a secure location for tablet charging and usage in almost any work environment.
The complete Havis Docking System Package is available for the Apple iPad 2, 3, 4 or Air. The package includes a durable, lightweight protective case with an optional hand strap, and offers tablet charging and security. The docking station component is compatible with all models, so tablet upgrades within a fleet would only require replacement of Havis protective cases.
The docking system was tested against the industry's toughest safety and quality standards to ensure reliable docking and performance in the field. Testing includes in-vehicle crash simulations, MIL-STD 810G vibration testing, environmental testing for hot/cold operation and storage, extensive cycle testing, and compliance with RoHS (Restriction of Use of Hazardous Substances) regulations.
The Havis Docking System for the Apple iPad features an easy-to-use latch handle and barrel lock that provide convenient one-handed docking and work together to securely and effectively mount the tablet, even with repeated use. The docking system also utilizes strain relief to protect the power cable connection and prevent accidental disconnects.
Havis is well-versed in building the safest and most reliable docking solutions to improve mobile worker productivity in a wide range of rugged environments. By working closely with equipment manufacturers, Havis has the opportunity to continually design custom solutions that enhance comfort and safety in the field.
For more information on the Havis Docking System for the Apple iPad, please visit http://www.havis.com/apple-ipad.
Follow Havis
Stay up-to-date on the latest products and announcements from Havis through the Havis Equipped Blog, LinkedIn and Facebook.
About Havis
Havis Inc. is a privately held, ISO 9001:2008 certified company that manufactures in-vehicle mobile office solutions for public safety, public works, government agencies and mobile professionals. For over 80 years, the Havis mission has been to increase mobile worker productivity with industry-leading products that are built to the highest safety and quality standards and are designed with comfort in mind. Headquartered in Warminster, Pa., with an additional location in Plymouth, Mich., Havis currently employs 200 people. For more information on Havis, please call 1-800-524-9900 or visit havis.com.
Contact:
Andrea Felice
Havis, Inc. | Marketing
Phone: 215-957-0720 ext. 3198
E-mail: media(at)havis(dot)com
Website: havis.com