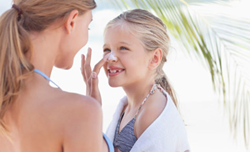 Austin, TX (PRWEB) May 22, 2014
Little Leaves Clothing Company helps parents keep a sound mind when their children are playing outside with their line of sun-protective playwear. May is Skin Cancer Awareness Month and Little Leaves plans to raise awareness with the launch of their newly designed eCommerce website for their sun-protective clothing brand. The new Little Leaves website features easy navigation, an updated modern design, and a simple checkout process for customers.
Little Leaves clothing offers a modern solution to sun protection, taking away the need for parents and kids to constantly apply messy sunscreen which only offers temporary protection. Ultraviolet radiation (UVA and UVB) is emitted daily from the sun, causing sunburns, skin damage and skin cancer. Cases of children and teens with skin cancer are rising with most children racking up most of their lifetime sun damage before the age of 18.
Little Leaves provides fashionable and affordable sun-protective wear for boys and girls. The UPF (Ultraviolet Protection Factor) of clothing rates the fabric's effectiveness in blocking UV radiation. Most traditional clothing has a UPF of less than 30. Little Leaves clothes have a UPF of 50+, which means our shirts and pants effectively block over 98% of UV radiation. Little Leaves' unique fabric blend includes bamboo, cotton and spandex to maintain high quality material for sun protection that is lightweight and comfortable for kids. This rich bamboo blend allows the material to be hypoallergenic, antibacterial and absorbent, making them perfect for all skin types, especially for children with sensitive skin or other skin conditions. Little Leaves currently has a sale on their "Spring Bird" sun-protective shirt for girls. Customers also receive free shipping on all orders over $40. To view the new website and begin shopping, please visit http://www.littleleaves.com.
About Little Leaves Clothing Company:
The inspiration for Little Leaves came from married couple and founders, Dr. Carlos and Dr. Carley Gomez-Meade. Dr. Carlos Gomez-Meade is a board certified dermatologist & skin cancer surgeon and Dr. Carley Gomez-Meade is a board certified pediatrician. With their knowledge of the risks of sun damage and skin cancer, they took great concern in finding sun-protective clothing for their children. Finding very limited options in UPF clothing, they developed a line of playwear that would be a fashionable and affordable solution to get parents and kids excited about sun-protective clothing. Please visit http://www.littleleaves.com to discover more about Little Leaves clothing.