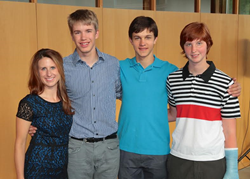 "We ride not only for our loved ones but for all people struggling with cancer." ~ Team BTF
Seattle, WA (PRWEB) May 22, 2014
StrataCore—the premiere Data Center, Cloud, and Connectivity consulting agency in the Pacific Northwest—shows its commitment not only to the Seattle-area community but also to the development of groundbreaking pediatric cancer therapies through its sponsorship of Team Ben Towne Foundation (BTF), the youngest cycling team competing in the annual 3,000-mile "Race Across America" (RAAM) event this coming June.
RAAM Team BTF is racing across America to drive awareness and funds for Seattle's Ben Towne Foundation, which contributes 100% of its donations directly to the Ben Towne Center for Childhood Cancer Research. The Foundation's mission is to speed up the creation of new treatments for pediatric cancer , the leading cause of childhood death by disease—but receives less than 3% of the National Cancer Institute budget.
The sponsorship marks the first for StrataCore, whose team was "inspired by the Foundation's pioneering vision to create new 'smart therapies' to cure cancer without the use of radiation and chemotherapy, which have especially devastating effects on children," said Aaron Loehr, CEO of StrataCore. "It's something that we feel very strongly about supporting."
For the cyclists, support from StrataCore means they may move forward with their dream of helping to change the lives of children with pediatric cancer. "Without the generous support from StrataCore, we would not have the opportunity to participate in the RAAM," the team said in a statement. RAAM Team BTF, will be taking on one of the toughest cycling challenges, covering 3,000 miles (non-stop); 170,000 feet of climbing in under ten days.
Although they are the youngest RAAM team to compete this year, including two Bainbridge Island High School sophomore students, they speak of their mission with a mature passion prompted by personal knowledge of the devastation that pediatric cancer causes. "Members of our team have had loved ones affected by cancer, some surviving in triumph and others passing away," they said. "We ride not only for our loved ones but for all people struggling with cancer."
The Ben Towne Center for Childhood Cancer Research currently is in clinical trials for a therapy that draws from the body's own immune system as a cancer therapy. Read more about the Foundation and Center here.
Racers in RAAM, the world's most renowned endurance cycling event, annually raise more than $2 million for charitable causes. Read more about RAAM here.
For more information about Team BTF, visit http://www.raamteambtf.org/.
About StrataCore
StrataCore is the premiere Data Center, IT Infrastructure, Connectivity, and Cloud Services Agency in the Pacific Northwest. We partner with the industry's top service providers to save our clients time and money - while maximizing business results. We offer unbiased, custom solutions while maintaining a clear view of the competitive landscape to optimize contract terms and pricing. Our market intelligence, tools, and detailed vendor selection process provides clients with the necessary insight to make informed IT decisions. For more information, please visit http://www.stratacore.com.