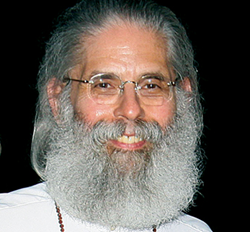 Because lifestyle choices directly effect our health, a daily meditation practice is the cheapest and most practical form of health insurance.
Averill Park, NY (PRWEB) May 22, 2014
The American Meditation Institute (AMI), in joint providership with the Albany Medical College, will present the sixth annual mind/body medicine CME conference on meditation and yoga for physicians and other health care professionals, November 5-9, 2014 at the Cranwell Resort and Spa in Lenox, Massachusetts. Entitled "American Meditation: The Heart and Science of Yoga," this comprehensive physician training is accredited through the Albany Medical College Office of Continuing Medical Education.
As part of AMI's "Yoga of Medicine" program, this conference is dedicated to providing quality, comprehensive and evidence-based education to physicians and other health care providers. This CME course will offer a broad curriculum of Yoga Science as mind/body medicine. Topics include mantra meditation, diaphragmatic breathing, Yoga psychology, chakra system therapy, mind function optimization, nutrition, functional medicine, epigenomics, ayurveda, easy-gentle yoga and lymph system detoxification.
The American Meditation Institute's CME conference on holistic mind/body medicine will provide physicians and other healthcare professionals the opportunity to experience what meditation practitioners learned thousands of years ago: meditation can ward off stress and disease. According to present day research led by John Denninger, a psychiatrist at Harvard Medical School, ancient yogic practices affect genes and brain activity in the chronically stressed. "There is a true biological effect," said Denninger. "The kinds of things that happen when you meditate do have effects throughout the body, not just in the brain." Stress-induced conditions can include everything from hypertension and infertility to depression and even the aging process. They account for 60 to 90 percent of doctor's visits in the U.S., according to the Benson-Henry Institute in Boston, Massachusetts. The World Health Organization estimates stress costs U.S. companies at least $300 billion a year through absenteeism, turnover and low productivity.
The dedication, enthusiasm, and teaching methodology of the AMI faculty combine to create a dynamic and interactive course for their students. Each faculty member is committed to the advancement and training of Yoga Science as holistic mind/body medicine. Presenters will include Leonard Perlmutter, AMI founder, meditational therapist and award-winning author; Mark Pettus MD, Director of Medical Education and Population Health at Berkshire Health Systems; Susan Lord MD, faculty member and holistic health consultant for Kripalu Center for Yoga and Health; Kathie Swift MS RDN LDN, leading educator, practitioner and author in the field of integrative nutrition; Beth Netter MD MT, holistic physician and acupuncturist, Albany, NY; Rosy Mann BAMS, Ayurvedic practitioner specializing in women's health and senior faculty member of Kripalu School of Ayurveda; Jenness Cortez Perlmutter, co-founder and faculty member of The American Meditation Institute.
Since 1995, Mr. Perlmutter has lectured extensively on the health benefits of meditation and yoga as mind/body medicine, including talks at the M.D. Anderson Cancer Center, Albany Medical Center, Stratton VA Medical Center, Berkshire Medical Center, University of Colorado Medical School, University of Wisconsin School of Nursing, Washington University Medical School, the United States Military Academy at West Point, and the Commonwealth Club of California. He also served on a distinguished New York Times panel of Yoga experts with Dr. Dean Ornish. Noted physicians Mehmet Oz, Dean Ornish, Bernie Siegel and Larry Dossey have endorsed Mr. Perlmutter's treatise on Yoga Science, which serves as the primary curriculum for the course.
The National Institutes of Health report that approximately 38% of adults in the United States aged 18 and over, and nearly 12% of U.S. children 17 years and under use some form of complementary and alternative medicine. Significant among these therapies are deep breathing exercises, meditation and yoga––all of which are offered in "The Heart and Science of Yoga" conference. "We are grateful to the Albany Medical College for their continued dedication to the teaching of mind/body medicine for physicians," Perlmutter said. "The content of this program will provide many benefits for the health and well being of physicians and their patients." According to recent graduate, Joel M. Kremer, MD, who is Board Certified in Internal Medicine and Rheumatology in Albany, New York, "This teaching has been an enormous benefit in my personal and professional life. I have less stress, more focus, and am able to serve my patients with greater clarity. It becomes surprisingly easy now to recognize the many clinical situations in which patients with somatic manifestations of 'dis-ease' could greatly benefit from Yoga Science."
-30-
About the American Meditation Institute
The American Meditation Institute is a 501(c)3 non-profit educational organization devoted to the teaching and practice of Yoga Science, meditation and its allied disciplines as mind/body medicine. In its holistic approach to wellness, AMI combines the healing arts of the East with the practicality of modern Western science. The American Meditation Institute offers a wide variety of classes, retreats, and teacher training programs. AMI also publishes "Transformation" a bi-monthly journal of meditation as holistic mind/body medicine. Call 800.234.5115 for a mail or email subscription.
Media Contact:
Mary Helen Holloway
60 Garner Road, Averill Park, NY 12018
Tel: 800-234-5115
Fax: 518-674-8714