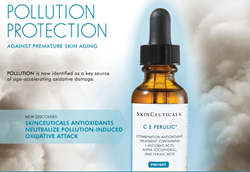 ...research determines that sunscreen- the gold standard in photo-protection- is simply not enough. There are many other environmental stressors that need to be addressed topically.
New York, NY (PRWEB) May 22, 2014
New York-Based Dermatologist, Julie E. Russak, M.D., FAAD, is always keeping up with the latest technologies in skincare. Recent clinical studies are revealing new breakthroughs in how to treat aging skin and uncovering scientific data leading to improving top anti-aging topicals. A recent article titled, "Analysis of dermal ageing pathways and resulting anti-aging interventions" discusses the science of aging and the new treatments available.
Through extensive research, scientists have found that the skin ages in two ways- chronological ageing (natural ageing process) and extrinsic skin ageing (ageing caused by external factors). According to the article, chronological skin ageing yields smooth, pale and finely wrinkled skin. Extrinsic ageing is defined by coarse, deep wrinkles with dyspigmentation, any abnormality of pigmentation of the skin. UV radiation, which causes 80% of facial photoageing, is the main cause of extrinsic skin ageing. Other culprits include radiation, severe stress, poor nutrition, overeating, alcohol intake, tobacco, and air pollution. This research determines that sunscreen- the gold standard in photo-protection- is simply not enough. There are many other environmental stressors that need to be addressed topically. According to The Skin Cancer Foundation 90% of visible aging is caused by sun and pollution. Today's skincare brands are taking note.
Pollution, now identified as a key source of age-accelerating skin damage, is the focus of a new SkinCeuticals campaign, #PollutionSolution and POLLUTION PROTECTION Against Premature Skin Aging. SkinCeuticals is known as an industry leader for their world-renown antioxidant serum formulas, backed up by extensive research and clinical studies. SkinCeuticals believes in order to properly protect the skin for broad range protection against all sources of environmental skin aggressors; it's crucial to use a topical antioxidant in conjunction with a daily sunscreen. SkinCeuticals offers eight antioxidant products that have been clinically proven to provide maximum protection from damaging UV rays and other environmental factors.
According to SkinCeuticals Review of Photodamage and Oxidative Stress and Protection Provided by Topical Antioxidants clinical study, these potent antioxidant serums favorably supplement sunscreen protection and provide additional anticarcinogenic protection. "In a 24-week, multicenter, controlled clinical trail, 55 women 35-65 years of age with mild-to-moderate find lines and coarse wrinkles and mild-to-moderate hyperpigmentation of the face and hands received a once-daily application of the product to the face, neck, chest and hands…By week eight, more than 79% of participants were satisfied with the overall appearance of their skin, more than 77% saw a reduced appearance of fine lines and wrinkles and more than 62% saw a reduction in brown spots and hyperpigmentation." The clinical study concludes that the C E Ferulic and Phloretin CF topical antioxidants serum formulas can penetrate systemic tissue and once absorbed accumulates a "72-hour reserve" that cannot be washed or rubbed off, providing continuous protection.
"Patients do their research, and want to be educated on how a particular treatment or skincare product is going to work for them," said Julie E. Russak, M.D. "Today, the educated consumer requests to know the science behind their products and I always explain, in an easy to understand fashion. Clinical studies are more important than ever."
According to the dermal ageing article, the global skincare market is predicted to increase in revenue from $79.3 billion in 2012, to a value of $102.3 billion by the end of 2018. The article outlines the mechanisms and pathways of skin aging and focuses on tried and true, scientific ingredients to treat signs of aging.
About Julie E. Russak, M.D.
Dr. Russak is a board-certified dermatologist, a Fellow of the American Academy of Dermatology, and a member of the American Society of Dermatologic Surgery. She graduated with honors from New York University School of Medicine and completed her dermatology residency at the Dartmouth Hitchcock Medical Center, where she served as chief resident. She completed an Oncology Melanoma Fellowship with world-renowned melanoma expert Darrell Rigel, M.D., and is the recipient of the Marianne Salzberg Award in Dermatology and the Jonas E. Salk Scholar Award. In addition to having a thriving practice, she is an assistant clinical professor at Mount Sinai Hospital, where she teaches dermatology residents and medical students.
Contact
For more information about Julie E. Russak, M.D., and Russak Dermatology Clinic, visit russakdermatology.com or follow her practice on Facebook and Twitter (@RussakDerm). To interview or make an appointment with Dr. Russak, contact Juliet Cavallaro at juliet(at)russakdermatology(dot)com or (646) 873-7546.