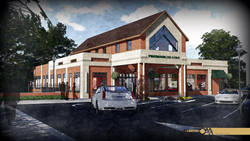 The direction of the design was to make the exterior of the old and new blend seamlessly but have some last-century character mixed with 21st-century technology. - Lead Architect John Sausen of Omni Associates
Morgantown, WV (PRWEB) May 22, 2014
Pikewood Creative, a visual marketing agency, is breathing new life into downtown Morgantown, West Virginia. The soon-to-be new home of Pikewood Creative is the former Dominion Post newspaper building, which was built in 1927. Pikewood Creative and parent company West Virginia Radio Corporation have renovated and expanded the four-story brick structure with sustainability and tradition in mind.
"The direction of the design was to make the exterior of the old and new blend seamlessly but have some last-century character mixed with 21st-century technology," according to lead architect John Sausen of Omni Associates.   
Melinda Graham, who serves as the building's interior designer said the project is a perfect example of the "recycle, repurpose, and reuse" philosophy. "The concept of adaptive reuse is being widely recognized as a solution for the growth and development of businesses. Old industrial buildings are often found in the heart of cities, they have historic relevance to the community, and they possess a classic character that can only be achieved with the passing of time."
Comprised of four floors, the building will house the corporate offices of Pikewood Creative, WV Radio, and talk shows distributed by the Metronews Radio Network. "We are thrilled to bring our offices to downtown Morgantown. This is an exciting time for our companies as we embrace our history while preparing for our future," said Dale Miller, President of WV Radio Corporation.