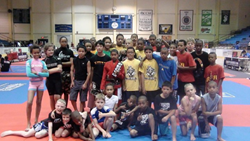 Camp Springs, MD (PRWEB) May 22, 2014
Lloyd Irvin's Martial Arts Academy Summer Camp Program is now open for enrollment. Maryland parents have many choices for summer camp programs, but few boast the benefits and activities that come along with a summer at Lloyd Irvin's Martial Arts Academy.
Lloyd Irvin's Maryland Summer Camp Program is open for children ages 4-13 and is located in Camp Springs, MD. Of course martial arts is on the summer camp curriculum, however what current parents of currently enrolled students find more important, is that the kids also learn life skills such as, discipline, team work, dedication, goal setting, and self-defense.
Included with the program are weekly field trips to kid-friendly summer spots such as Allentown Water Park and Six Flags.
Stop Drop and Read is a daily reading exercise, where campers are take time out the day to read for 60-90 minutes. Stop Drop and Read has received a lot of praise from parents, as the reading time keeps kids on their academic track during the summer.
The Maryland Summer Camp also boasts a summer-end "Demo Team" performance. Throughout the 10-week summer camp, the campers are split into teams, lead by a camp counselor and practice dance and martial arts routines. At the end of the summer, all parents are invited to the live performance to watch their children express their newfound skills in life and martial arts.
The Summer Camp program begins June 16, 2014 and ends August 27, 2014. Enrollment is open now. For more information on enrolling your child, please call 301-449-KICK. Or visit KarateSummerCamp.com
Lloyd Irvin's Martial Arts Academy is located at 6333 Old Branch Ave #302, Camp Springs, MD 20748. The Academy has been in operation for 17 years, and boasts Maryland's Best Kids Martial Team from 2006-2014.