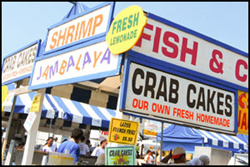 Allenhurst, NJ (PRWEB) May 27, 2014
Vacationers cannot say that they have visited the Jersey Shore without including these fun events in their itinerary. As the summer season nears, Jersey Shore hotspots are getting ready for their most anticipated celebrations of the year that have our tummy's rumbling. Read on for some foodie events to look out for in the area.
Not only is Belmar, New Jersey a vacation favorite for beachgoers, it is also home to the 28th New Jersey Seafood Festival that takes place from June 13, 2014 to June 15, 2014 at Silver Lake Park in Belmar, New Jersey. More than 40 restaurants and vendors participate in the festival, where guests can enjoy live entertainment and activities for children.
Craving some grilled chicken on the Barbie? North Wildwood is hosting the New Jersey State Barbecue Championship from July 11, 2014 to July 13, 2014. Dozens of the state's best grill masters will compete for bragging rights for the title of Grand Champion. Food will be offered; cost of admission is free.
Top off the summer with the Atlantic City Seafood Festival taking place at the Bader Field in Atlantic City, New Jersey on September 13, 2014 and September 14, 2014. Featuring 50 restaurants and 120 vendors, guests can sample fresh seafood, engage in cooking demonstrations and relish in entertainment for the whole family.
For more information and for other events happening at the Jersey Shore, visit http://www.nj.com/inside-jersey/index.ssf/2014/05/down_the_jersey_shore_more_to_do_in_2014.html.
About Bielat Santore & Company
Bielat Santore & Company is an established commercial real estate firm. The company's expertise lies chiefly within the restaurant and hospitality industry, specializing in the sale of restaurants and other food and beverage real estate businesses. Since 1978, the principals of Bielat Santore & Company, Barry Bielat and Richard Santore, have sold more restaurants and similar type properties in New Jersey than any other real estate company. Furthermore, the firm has secured in excess of $500,000,000 in financing to facilitate these transactions. Visit the company's website, http://www.123bsc.com for the latest in new listings, property searches, available land, market data, financing trends, RSS feeds, press releases and more.