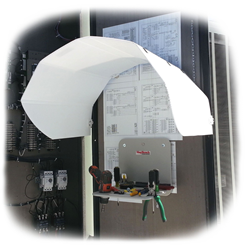 I have never owned a more useful tool.
Los Gatos, CA (PRWEB) May 23, 2014
16-inch and 30-inch MagShades now available! The MagBench Workstation product line offers several reliable and easy solutions to solve everyday needs for outdoor tradesmen on service calls or on the jobsite.
Two sizes of MagShade are now available: The 16-inch model is designed for use with a MagBench® Workstation to protect your tools and reduce the glare on a laptop screen; and the 30-inch model is designed for personal protection for all outdoor applications. MagShade can be shaped to suit any application from a simple arch above your work area, a square surrounding your MagBench®, or a vertical arch for side protection from the wind or sun. Both attach in seconds to any steel surface with powerful Rare Earth magnets. Made from very light-weight corrugated plastic, MagShade folds neatly for easy transportation and storage, and will provide years of protection.
"In my 32 years working in the trades, I have never owned a more useful tool. MagShade provides the protection from the sun and rain that I have been looking for all of these years. Now, I bring my MagShade with me on every outdoor job. What a great product," said Ernie Gonzalez, a Senior Facilities Technician.
"I've been working as an HVAC contractor for over 30 years and most of that time was spent on a roof unprotected from rain and the sun's harmful UV rays. Many times, I had to field fabricate a temporary weather shield out of plywood, cardboard, sheet metal or anything else I could find on the jobsite. After searching for a light-weight portable weather shield, and not finding anything to solve this problem, I decided to invent the MagShade product to do just that. Once you work under a MagShade, you'll wonder how you did without it," said Steve Fisher, Inventor of MagShade (http://www.magbench.com).
Magnitude Products, LLC, (http://www.magbench.com) is a product development company that provides inventive and creative solutions for many different industries. Located in Silicon Valley, we are constantly looking for innovative ways to make life easier.