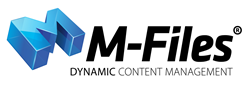 Nucleus has identified usability and functionality as the two primary factors that drive ECM value, and we found these to be the core strengths of the M-Files platform.
Tampere, Finland (PRWEB UK) 22 May 2014
M-Files Corporation, a provider of solutions that dramatically improve how enterprises manage documents and other information, today announced that the company was included in the Nucleus Research Technology Value Matrix for Enterprise Content Management (ECM), ranking among the top providers. The Value Matrix is based on functionality and usability, the two core measures that Nucleus has found indicate an application's ability to deliver initial ROI and, ultimately, maximum value for ECM solutions over time.
Nucleus Research is a global provider of investigative, case-based technology research and advisory services that provide real-world insight into maximizing technology value. In this first edition of the ECM Value Matrix, the analyst firm highlighted the trend toward simplification and better usability as well as integration with other core enterprise solutions, such as CRM and Human Capital Management. According to Nucleus, ECM is producing higher ROI for customers than ever before, leveraging both cloud and hybrid deployments in portfolios that offer greater content availability for end-users.
In their 2014 ECM Value Matrix, Nucleus Research notes that "M-Files has a growing global presence as an enterprise content management system that is easily deployed, quickly adopted, and offers a high level of regulatory compliance out of the box. Users have found that it is easily adopted, and provides a high level of document and information management functionality at a lower price than other ECM vendors."
In addition, Nucleus recently published an ROI case study on M-Files customer Booth & Associates, a North Carolina-based electrical engineering firm, which highlighted the positive financial impact the company has experienced from using M-Files, such as a 378 percent ROI; a payback period of four months; and an average annual benefit of $119,019.
"Nucleus has identified usability and functionality as the two primary factors that drive ECM value, and we found these to be the core strengths of the M-Files platform," said Joseph Rojas, Research Analyst at Nucleus Research. "Another attractive aspect of the M-Files solution is its flexible deployment options that enable organizations to implement it on-premise, in the cloud, or in hybrid environments, which gives enterprises the flexibility to leverage M-Files within their current environment with the option to expand over time."
"We're thrilled that Nucleus Research has recognized M-Files in their inaugural ECM Value Matrix," said Greg Milliken, vice president of marketing at M-Files Corporation. "Our continued acknowledgement by the analyst community is further testament to the value the M-Files enterprise content management solution delivers to our customers by providing unified and consistent access to their structured data and unstructured content, regardless of where it resides in the enterprise."
About the Nucleus Research Value Matrix
There is nothing 'magic' about the Nucleus Research Value Matrix, which categorizes vendors according to usability and functionality. This determines which solutions provide the most value to organizations, helping with technology and business decisions. Nucleus issues the Value Matrix twice a year. For more information, visit http://nucleusresearch.com.
About M-Files Corporation
M-Files enterprise information management (EIM) solutions eliminate information silos and provide quick and easy access to the right content from any core business system and device. M-Files achieves higher levels of user adoption resulting in faster ROI with a uniquely intuitive approach to EIM that is based on managing information by "what" it is versus "where" it's stored. With flexible on-premise, cloud and hybrid deployment options, M-Files places the power of EIM in the hands of the business user and reduces demands on IT by enabling those closest to the business need to access and control content based on their requirements. Thousands of organizations in over 100 countries use the M-Files EIM system as a single platform for managing front office and back office business operations, which improves productivity and quality while ensuring compliance with industry regulations and standards, including companies such as SAS, Elekta and EADS. For more information, visit http://www.m-files.com.