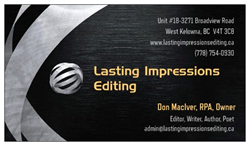 West Kelowna, BC, Canada (PRWEB) May 23, 2014
Proprietor Don MacIver cites "a substantial increase in the need for professional level document proofreading and text editing services to a diverse range of clients for personal or business/professional project applications in a global marketplace that demands critical attention to essential elements of the written language and its conveyance" as his primary reason for the start-up of Lasting Impressions Editing, a natural extension to the author/editor's acclaimed ongoing writing endeavours.
For the college or university student writing a paper to the business owner/manager writing an internal company report, memo or external presentation copy, the need for a concise, polished presentation requiring critical content construction and conveyance often requires the objective perspective of a professional editing service.
Through an extensive career in professional public and private sector management services as a Real Property Administrator and a fourteen year background as a published author and writer, proprietor Don MacIver provides critical content analysis and editorial polish that is centric to each client project's targeted audience.
Lasting Impressions Editing addresses client needs for polished document content ranging from a grammatical proofreading and editing process to a more complex structural, constructive and substantive analysis for individual clients composing personal letters, book manuscripts or other documents to business professionals seeking to outsource document proofing through business editing services whether for internal communications and presentation, an external proposal or promotional project and more. Detailed information, including the testimonials of high profile clients, regarding the company's editing services are found at Lasting Impressions Editing.
About 'Lasting Impressions Editing'
Lasting Impressions Editing provides content editing services to the local Kelowna community, across the region and around the globe, specializing in personal and business centric copy editing to the student, author, poet and business executive alike in a marketplace that demands effective, quality content. The company is dedicated to engagement of the client with a consultative and constructive approach to its editing services to achieve their project objectives while maintaining their individual/corporate style and branding.