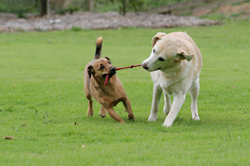 Toms River, NJ (PRWEB) May 26, 2014
Who says that your four legged friend can't be part of your party of five when dining out? These Jersey Shore locations understand that pets are part of the family allowing customers to bring their furry companions out on the town. Check out some pet-friendly attractions around the shore below:
As one of the largest dog parks in the state, Timber Creek Park is a 128-acre park with walking trails, playgrounds, picnic tables and a fenced-in area for dogs to frolic and play. Dogs are also welcome to cool off in the nearby lake.
The Wonder Bar in Asbury Park is the perfect place to dine out during "Yappy Hour" on the restaurant and bars outside patio, encouraging guests to bring their dogs. Dogs can play in their outdoor fenced-in area on Thursdays from 4:00 pm to 9:00 pm from May through September.
While pet owners relax on the sand, dogs are free to run around at Fisherman's Cove Conservation Area in Manasquan, also known as the "dog beach."
For more information pet-friendly locations in the area, visit http://www.nj.com/inside-jersey/index.ssf/2014/05/oh_the_nj_places_youll_go_with_your_pooch.html.
About Surf n' Stream Campground
Surf n' Stream Campground is a family-friendly RV park located near all of the most popular beaches at the Jersey Shore. The campground includes a full-size swimming pool, picnic area, activities for all ages, weekend events and more. For more information about Surf n' Stream Campground, visit their website at http://www.surfnstream.com or call 732.349.8919.