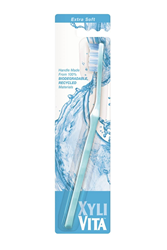 XyliVita toothbrushes are environmentally friendly and offer the kind of quality that our consumers demand.
Bowling Green, Florida (PRWEB) May 22, 2014
Organix-South® is pleased to announce a new line of oral care products called XyliVita™, with several offerings being rolled out over the next four months.
The first product in the line to be launched is a toothbrush with a handle that is made from 100% biodegradable recycled materials. The XyliVita toothbrush uses the finest nylon bristles to gently massage gums, with an angled design that helps users get to all those hard-to-reach places. The product is available in soft, extra-soft or medium choice of bristles and comes in four colors: Key Lime, Frosty White, Acai Purple and Sky Blue.
"At Organix-South, we are committed to taking care of the environment so we continue to offer products that are good for you and good for the Earth," notes Autumn Blum, Organix-South's Founder and Formulating Chemist. "XyliVita toothbrushes are environmentally friendly and offer the kind of quality that our consumers demand." In addition, the new toothbrush has been certified as cruelty free.
Later this summer, Organix-South will be adding toothpaste, mouthwash and gum, all sweetened with Xylitol, to the XyliVita Oral Care line. Xylitol's benefits include prevention of cavities, dental plaque, dry mouth and bad breath, along with its unique ability to remineralize tooth enamel. Xylitol has the same approximate sweetness as table sugar but with one third less calories.
"Oral care is becoming our specialty at Organix-South," adds Autumn. "We have solutions for a wide range of issues and preferences."
Based in rural central Florida, Organix-South, a division of Nutraceutical Corporation, offers a range of award-winning products including the brands TheraNeem Naturals®, Naked Organix ®, and now XyliVita™. TheraNeem Naturals offers the world's leading line of organic Neem-based products that include oral care, hair care, bar soaps, skin care, pet and garden care. Naked Organix offers concentrated plant-based formulas to protect, repair and moisturize face and body featuring some of the most effective botanical ingredients on the market including: Kukui, Tamanu, Argan, Neem and Sea Buckthorn. XyliVita offers Xylitol and Vitamin-infused oral care products and eco-friendly toothbrushes. Products are available at health food stores, pharmacies, yoga studios and other fine outlets. For information, see http://www.organixsouth.com or call 888.989.NEEM. To like Organix-South on Facebook, go to http://www.facebook.com/organixsouth.