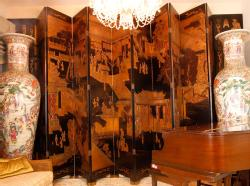 Beverly, MA (PRWEB) May 22, 2014
The summer season at Kaminski will kick off with a spectacular June 1st estate auction, featuring the impressive estate of Raymond Buldoc of Fort Lauderdale, Florida and Ogunquit, Maine.
The extensive Buldoc collection includes a variety of Chinese antiques, Continental furnishings, and American prints and paintings. Among the Chinese items are a pair of famille rose vases that stand an impressive seventy-five inches high. The imposing pair features warrior scenes and has been valued at $7,500 to $12,500.
Equally impressive is a large 20th century Chinese coromandel screen measuring 106 inches in height. Detailed gold leaf decoration stretches across all twelve panels in an expansive scene of gardens, buildings, and figures. The piece is valued at $6,000 to $12,000.
Alongside these spectacular Chinese items, Mr. Buldoc's collection also includes an array of fine Continental furnishings and accessories. Among the most highly valued are a number of Napoleon the III style boulle pieces, including a center table, bureau plat, and cabinets. All the elaborate boulle pieces feature beautifully detailed ormolu mounts. Perhaps the most eye catching is the large glass fronted wall cabinet, complete with keys and tassels, valued at $6,000 to $12,000.
Among the other furniture included in the estate a particular Louis XV style cylinder desk also stands out. The beautiful desk is crafted in mahogany and embellished with gilt bronze mounts and oval side panels. Kaminski has estimated that this desk will sell for between $6,000 and $12,000 at the auction.
The Buldoc collection also includes a selection of works from local Maine and other American artists. Of particular interest is lithograph by 20th century American artist Thomas Hart Benton. Entitled "The Race," the lithograph depicts a horse galloping before a train across a prairie landscape. With the original Associated American Artists' label affixed verso, the piece is sure to interest many bidders. Many of the Buldoc lithographs come from the Associated American Artists, including works by Charles Jack Young and Charlotte Joan Sternberg, as well as another work by Thomas Hart Benton.
The jewelry to be auctioned from the estate is equally impressive. The most highly valued piece in the collection is a 14 karat yellow gold ladies' ring set with three and a half carats of diamonds, valued at $7,000 to $12,000. The collection also includes a fabulous platinum and diamond ring that features three old European cut center stones totaling 3.8 carats accented with many smaller side diamonds.
Two Art Deco diamond bracelets will also be offered. Both are eighteen karat white gold and feature sapphire and emerald accents. They will be offered at $3,000 to $6,000 each. The rest of the over one hundred lot collection includes a wide variety of both men's and women's pieces in styles from many different periods.
Apart from this varied and impressive collection, Kaminski Auctions will also offer two stunning vintage cars. The first is a 1967 250S Mercedes. The four-door car features a burgundy exterior with tan leather seats and interior. It boasts low mileage with only 46,174 miles logged, and has been preserved in excellent condition.
The second is a 1927 Ford Model T, an equally remarkable car from a very different era. The dark green Model T features a four cylinder engine and a three speed transmission, and maintains the old paint and upholstery in good condition.
The upcoming auction will also include a pair of Irish paintings. The first, entitled "A Few Sheet for Irish Lackan," is from artist Cecil Maguire. The oil on board painting depicts a man guiding a rowboat containing a few sheep. Expressively rendered water and bright highlights make for a striking composition. Kaminski auction experts have valued the piece at $3,000 to $6,000.
The defuse light of Maurice Cannine Wilks' work "Whitepark Bay" is similarly captivating. The artist depicts the beach and bluffs of Antrim Ireland in soft stokes and quiet colors, creating a relaxing and peaceful landscape that is expected to sell for between $1,000 and $1,600.
Preview for this diverse and exciting estate auction will take place at the Kaminski Gallery Thursday, May 29th, from 10:00am to 5:00pm; Friday May 30th, from 10:00am to 5:00pm; Saturday May 31st, from 10:00am to 5:00pm; and Sunday, the day of sale June 1st, beginning at 10:00am.
KAMINSKI
Kaminski Auctions, located on the North Shore of Boston, has been serving the New England antiques market for over 25 years as a full service auction house and appraisal service for fine art, antiques, and estates.
With two locations in Beverly, Massachusetts, including a new state of the art auction gallery located at 117 Elliott Street, and a historic 1850's barn and office facility at 564 Cabot Street, Kaminski Auctions hosts 25 auctions a year.
In today's highly competitive market of fine art and antiques, Kaminski Auctions provides its customers with bicoastal services and marketing with west coast offices in Beverly Hills and San Diego, California.
Kaminski Auctions offers specialty departments in Asian Art and Antiques, Silver, Glass and Lamps, Couture and Vintage Clothing, Photography and Modern Design . We have highly trained and knowledgable appraisers on staff that will help you determine the true value of your antiques, or entire collections. Free Appraisal days are offered every Tuesday from 10:00am-4:30pm at 117 Elliott Street in Beverly, Massachusetts & by appointment at our San Diego and New York City locations. We welcome emailed photos of your items! Contact consignments(at)kaminskiauctions(dot)com.
We would like to thank all of our customers, consignors and friends for voting Kaminski Auctions #1 Best Auctioneer on the Northshore - Reader's Choice Award! "Kaminski has earned its gold-star reputation by serving the New England antiques market for over 25 years. Specializing in the sale of Asian art and antiques, silver, glass and lamps, couture and vintage clothing, photography, and modern design, the full-service auction house provides expert appraisal services. From its Beverly art gallery and historic barn comes a wealth of experience with fine art, antiques, and estates values." - Northshore Magazine